It didn't take Mandeville High senior Luke O'Neal long to start enjoying his summer vacation. Luke and his Friend, Harrison Jambon, made a trip out to the Causeway where they took advantage of the duel bite going on. On the way out to the Causeway, the team decided to take advantage of the light winds and make a run to the artificial reef out of Madisonville known as Lemo's reef.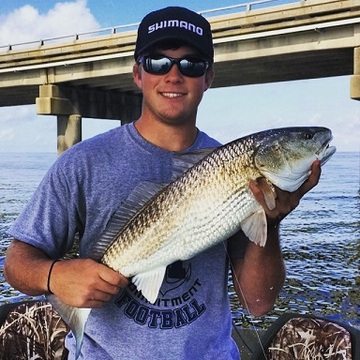 "I knew the wind would be good on Wednesday so my buddy and I took my boat and hit the reef first thing. We were greeted by same conditions and a couple boats at the reef. We caught five or six keepers and then the bite died out," Luke said. After a short run to the Cuaseway, Luke says they started picking up trout immediately. "We ran to the Causeway and started catching some nice trout right away. They seemed to be scattered though. We would catch two or three then go a while without a bite," he says. At the end of the day the duo ended up with 20 trout and 6 redfish. Luke says "All in all, it was a good day at the bridge and the reef. Hopefully we will make it out there again soon."

Trestle Trout

Slidell angler Taylor Valios has been fishing the Trestles through the peak of the speckle trout bite and says the numbers aren't what they used to be. "Limits are hard to get on the bridges right now but in all honesty I think it's only the smart fish that are left - the big ones," he says. Valios has been upping his game for the STAR Tournament lately which means targeting bigger trout.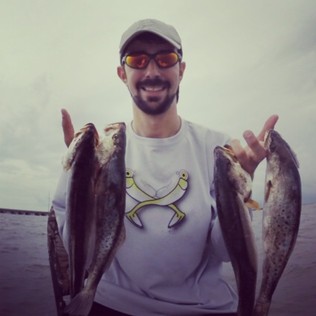 "I like to fish big baits when targeting bigger trout. If its live shrimp I'm using, I'll find the biggest ones in my bucket. When I use soft plastics, I like to use 4"-5" baits," he says. Taylor gives a tip for finding trout along the train tracks. "The key is to move around, find the strong tide lines, and either fish early morning or close to sunset. The first full moon in June is coming up and it's going to be the last chance to limit out on some nice specks and also target these big specs before water temps get too high for the lake," Valios says.



Hungerford Reef Still Producing

Numerous reports of limits are still coming out of the shell pad out of Bayou Lacombe. Marked by three pylons strapped together, the shell pad may just be your best option for putting together big numbers of speckled trout. The key to targeting trout here is to get there early and have patience. These trout are moving around and come through in waves. You may have 30 minutes to an hour before hook-ups but when they are biting, you will be able to put good numbers in the boat in little time. Live shrimp is by far your best option but if you're fishing plastics use smoke colored fluke on a 3/8 oz. jig head.



Tournament Results

Wayne Richardson took first place in the River Champs tournament on the Tchefuncte River with a 3-fish stringer weighing 8.16 lbs. With the win, Richardson moves to the #6 spot in the Northshore Bass Series Power Rankings. In second was the team of Kyle and Dylan Hills with a 5-fish limit that weighed 8.01 lbs. In third was Scott Andrews with a 5-fish stringer weighing in at 7.78 lbs.


Upcoming Tournaments

The next Bass Assassins tournament is set for the Tchefuncte River on June 7th. If you have any questions you can call Chris Basey at 985-707-7857.

Liars and Lunkers will be holding its tournament on June 14th at Crawford's Landing. For more information please call Chad Hartzog at 985-502-3217.

The 2nd annual Madisonville Frog Rodeo will be held on June 12 through June 14 at the Madisonville Riverfront. For more information please call Misty at 985-590-7338.