We are now in the dead of winter and fishing is downright tough no matter where you decide to fish, or what species you decide to target. But It's around this time of year that 19 year old Mike Jones of Madisonville hits the Tchefunte River in search of what he calls his favorite fish to catch. Mike Jones is an avid fisherman and targets catfish on the Tchefuncte River year round but he says it's the colder weather that usually brings the bigger catfish out for some reason.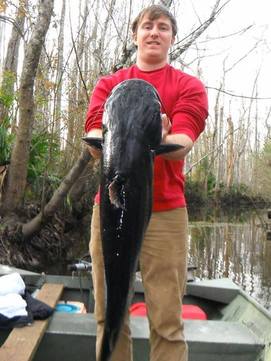 On Mikes recent trip he landed a massive 35 pound catfish from one of his trot-lines and says this is the time to get out there for those monster catfish but it's important to target these fish closer to the lake rather than upriver. "It all depends on the time of year you fish. The colder it gets I find I have more success setting my lines downriver, closer to the Lake. When the weather warms up I like to head up-river where the water is a little cooler," Jones says. Mike likes to use fresh fish as bait but says this winter it has been tough trying to catch his own bait. "The pogies never really came in like they normally do this time of year. When I caught that big catfish I threw my cast-net and came up with nothing so I had to go and buy some bait." While chicken livers are popular bait for trot-line fisherman, Mike says that he prefers using chicken gizzards. "I've tried using chicken livers but every time I pulled my lines up the livers were gone with no fish to show for it. They weren't touching it. I switched over to chicken gizzards and started catching them right away!" While Mike says the gizzards are good, there is one bait that is his all-time favorite. "I love to use river eel! While fishing with my poles I'll occasionally catch a river eel and cut it up. That bait always catches fish it seems. All I do is cut it up like you cut up a piece of sausage." Mike says. Most people will agree that the best size for cleaning and frying catfish is within that 2lb. to 5lb. range and Mike is no different. He says he doesn't like to keep the bigger ones. "I eat pretty much all the fish I catch but I'll throw back the bigger ones because there's a degree of respect I have for it. It has gotten through so many fisherman I just think it deserves to live to fight another day" Jones says. When it comes to recipes, Mike says he uses a recipe he like to call true cajun. "I like to mix up some Zatarains crab boil with mustard and coat my fillets with that before frying them up."
Chain Pickerel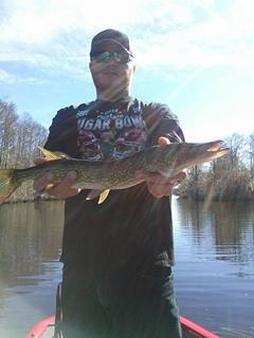 Korey Inscoe of Slidell is no stranger to putting large amounts of bass in his boat but on his last trip he caught what most anglers consider a northern sport fish. "I was bass fishing a spot on the lock one canal that I frequent a good bit and was doing a number on the bass. I made a long cast parallel to the grass line and a few cypress stumps and began my retrieve about midway back to the boat, my bait got slammed so hard that It put slack in my line, for many anglers that have thrown a crank bait this is an awesome feeling I leaned into the hook set and the fight was on!" Korey says it didn't take him long to notice that it wasn't a bass. "At first I thought I hooked a good bass but when he gave us that aerial show I knew immediately what it was." What Korey had hooked was a 2 ½ ft. Chain Pickerel. He says that they are not uncommon around the locks and he has caught several in his lifetime on the Pearl River. "I've caught roughly about 15 to 20 of these fish all out of the same area between locks one and two on the Pearl River," Korey says.