The sac-a-lait scene here on the Northshore has hit full stride. Anglers are finding those delicious slabs moving into the shallows to spawn with the warmer weather. But what if you're looking for more than a fish the bites on a jig the size of a ink pen cap? February is arguably the best month for catching big catfish in the rivers, bayous, and inlets from Lake Pontchartrain.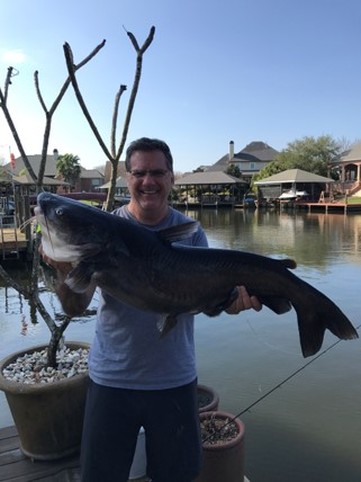 Ed Cheron of Slidell, lives in Oak Harbor and says he was just trying out a new fishing knot when he ended up catching a 27 lb. freshwater catfish. "I was Board so I decided to work on tying monofilament line to braided line for leaders. After my first knot I decided to test it out in the canal behind my house. On my second cast...BAM!!!! This bad boy rolled on that lemon head like it was a filet mignon," Cheron says. Ed fought the fish for 20 minutes and then a neighbor helped him get it on the dock. Ed says this was a fish that he will never forget. "I've never seen anything that big come out of the Oak Harbor canals. It was definitely a cast to remember," he says. On a side note, the knot held.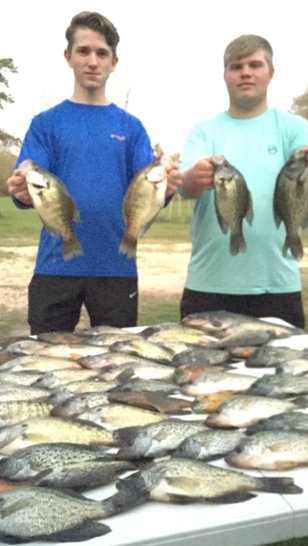 Blood River Sac's
Robert Gauley of Maurepas, has found a way to make his work day go by quicker. His son Laitin and his friend Dillon Quamme, headed out to the Blood River to try their luck with catching sac-a-lait while Robert was at work but Robert says he felt like he was in the boat right along side of the friends because of the updates he received via cell phone. "It was almost like I was there! He would text me where they were on the river and if they were catching anything. Then in response, I would drop a pin on a map and tell him to try certain areas," Gauley says. His son even texted Robert a few videos which really made him feel like he was there. "He even made a couple of videos of the corks going down and landing fish!" he adds. The friends ended the day with over 25 sac-a-lait with a few perch mixed in. Laitin used a brown and orange jig 16" under a cork, while Dillon used a solid black jig under a cork. Both caught the same amount of fish.
Crab Ban In Effect
The Louisiana Department of Wildlife and Fisheries Blue Crab ban went into effect on Monday, February 20th and will continue for 30 days. Under the ban, the blue crab season will be closed on commercial take and the use of commercial and recreational crab traps for 30 days. The new measures are expected to promote spawning while managing the present crab population. During this period recreational crabbers will still be allowed to use crab nets and lines.