Aaron Vick of Madisonville has been on a mission to find crabs this summer. As a youth, Aaron has had some truly unforgettable times crabbing, and he wants to make the same memories for his kids. "Growing up, I had a friend whose father was a true Cajun. I would go with them to pick up a line of about eight crab traps in the Atchafalaya Basin. I can remember us pulling those traps up with each trap holding many dozens of crabs. I will never forget it," Vick says. After trips to the Tchefuncte River and Manchac producing less than stellar results, Aaron decided to make a trip to Bayou Lacombe. "This was my first venture down to the mouth of Bayou Lacombe. I was amazed at how beautiful this area is. The beach at end that drops into deep water is just beautiful," Vick says. On their last trip, Aaron and his two sons Roman and Adrian, launched at the end of Lake Rd. and started sinking their nets.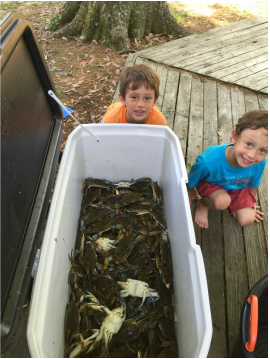 "I dropped the trolling motor and we dropped our nets in 8 to 10 ft. of water from the last cut to the left, all the way to the Lake. We spaced our nets 50 to 100 feet apart," he says. The team baited the nets with turkey necks and fish heads and after just 20 minutes of soaking, they checked the nets and Aaron says they were pulling in as many as 6 crabs per net. "The kids enjoyed pulling the nets in as well as using the tongs to put them in the ice chest. We caught anywhere from 50 to 120 crabs that trip," he says. At the end of the day the Vick family ended the day with a crab boil. Aaron says the sizes varied so don't expect all #1's, but as far as numbers are concerned. Bayou Lacombe is the perfect place to take the kids and make some memories. "Our trip to Bayou Lacombe was almost perfect besides the size of the crabs. The area was far more than I expected. Not much boat traffic and Big Branch is absolutely beautiful," he says.


Redfish Invasion
With the speckled trout bite starting to teeter, the redfish have picked up the slack and easy limits are being taken from the 24-mile reef other known as the Lake Pontchartrain Causeway. Mandeville angler Zack Liberto has turned his attention to the bronze bruisers and has been finding good numbers of reds along the bridge and the northern shoreline. "We launched from Mandeville Harbor around noon with beautiful water and conditions then headed out to the Causeway. We Started about 12 miles out and fished for a few hours picking up 7 big reds," Liberto says. Things started getting bumpy from the increasing winds so Zack headed toward protected water. "The lake kicked up so we headed to Goose Point and threw spinner baits to pick up 8 more reds," he says. Liberto says it's pretty much a given that you'll catch redfish right now if you find clean water. "The redfish bite in the lake is insane right now! It doesn't really matter where you go, just look for clean water and bait and the reds should be there," he says.

Tournament Results

FPBA held its tournament on the East Pearl and it was the team of Ronald Pierre and Shaun Miley who took first place with a 5-fish stringer weighing 8.23 lbs. With the win Ronald Pierre moves into a tie with Wayne Richardson for the #6 spot in the NBS Power Rankings. In second was the team of Branden Sheridan and Corey Wheat with a bag that weighed 8.03 lbs. Darrick Neal and Nick Church took third with a total of 7.80 lbs. The big bass division was won with a 3.82 lb. bass caught by Forrest Green.

Upcoming Tournaments

Liars and Lunkers will be holding its tournament on June 14th at Crawford's Landing. For more information please call Chad Hartzog at 985-502-3217.

The 2nd annual Madisonville Frog Rodeo will be held on June 12 through June 14 at the Madisonville Riverfront. For more information please call Misty at 985-590-7338.

The 18th Annual Save Our Lake & Coast Fishing Rodeo will be held on Friday, June 13th through Saturday, June 14th at the Kenner Boat Launch. All participants who register will be have their name entered to win a charted trip for two. For more information please visit www.saveourlake.org.