Slidell angler Nick Church is the first to admit he is a bass fisherman first and foremost. But when his father Kevin came down to visit from Michigan, he couldn't help but try and get him on some bigger fish. Then he thought, what could be better than hooking up with the big, bronze beauties that are known for their fight no matter what the temperature. "We wanted to go to Lacombe and do some bass fishing but I wanted to make sure my dad got to feel a good fight that day so we decided to head out to the Rigolets," Church said. The father and son team launched out of Rigolets Marina and headed straight to Double Bayou Lagoon where on a previous trip, Nick found redfish. "Three weeks prior I went to the same spot and caught redfish so I knew we had a good shot at catching a few," he said. The team was on the water by 10:00 a.m. and Nick says the fog was thick. "The fog was ridiculous that day. You could see the cars on the bridge going up and then they would disappear. It was unreal," he said.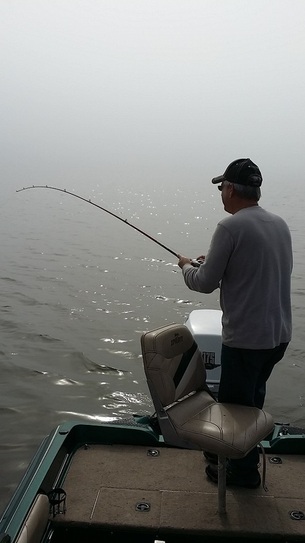 After reaching their desitination it wasn't too long before after Nick's pole bowed over and his first redfish was on the line. "We were fishing in about 14 ft. of water and I casted out to the deeper water with a KVD Crankbait, and within about twenty minutes I had the first redfish in the boat," Nick said. Crank- baits are not usually first on the list when it comes to catching redfish in South Louisiana and Nick says his dad couldn't believe what he was using. "My dad was throwing a big Berkley 4" Power Bait but he was stunned when I tied on a deep crank bait shad color. I knew what I was doing and sure enough that is what they hit," he said. After a few minutes Nick hooked another and handed the rod over to his dad and the fight was on. His dad got this one in the boat and switched over to the crank-bait also. Nick said that made all the difference. "He turned around said 'ooooo!' He fought that thing and fought that thing and it just wouldn't come. He had a bull! He fought that thing for 10 minutes before it came up and showed himself. He was huge! He made one last run and we heard SNAP and my dad let a big 'awwwww' because he lost it," he said. The duo ended the day with three redfish and a hand full of bass that they had picked up along the way. Nick warns when fishing for redfish with crankbaits, "Those hooks aren't made for redfish so you really have to let the fish do what he wants for a while," he said.


Eden Isles Bass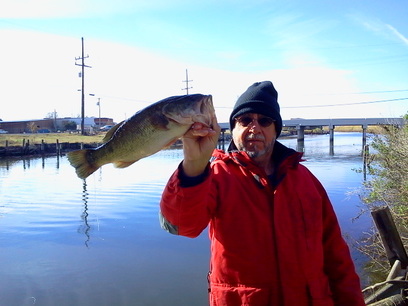 For anglers looking to put a few bass in the boat, the canals along Eden Isles are holding bass along the many wharfs that line the protected water. Roger Sissac has been fishing the finger canals and says there are fish holding to the piers and bulkheads but the bite is very soft. "I couldn't feel some of these fish pick up the worm. When I started to reel in slowly, the line would be taught," Roger said. Sissac lost quite a few until he made a change in his hook-setting technique. "After losing a few, I realized there were fish on, so I started setting the hook when the line was taught and started catching fish," he said. Roger started the trip at 2:30 p.m. and managed to fish two of the canals. He ended the day with 8 bass that he caught on a 4" tequila sunrise worm.