Brain May fishes the Eden Isles canals numerous times this month and says for fishermen who want to escape the wind, Eden Isles can produce a nice box of bass. Brain has a monthly report that summarizes the pattern that he's figured out in the canals. "The bass in these canals are everywhere! I usually do very well for bass in the canals during the day. Early morning I'll throw topwater baits towards the bank and as it gets warmer during mid-day, I turn to plastic and work the rock piles or under the docks.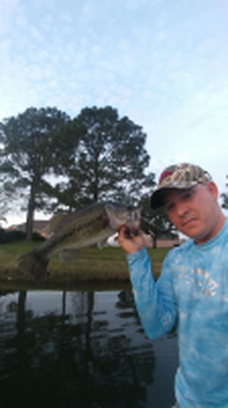 The best bass seem to come from the canals along the Oak Harbor side, however I have snagged a few fatties from this side as well," Brian says. The great thing about Eden Isles is it's proximity to the lake which means a mix of saltwater and freshwater fish. Brian says in the afternoons he turns his attention to speckled trout. "Later in the evening I'll turn to trout but they are hit or miss. I'll throw the Victory Red Shu-Shu Slug or the yellow color and do well on the trout," May says.
Bayou Bonfouca
George Nunez's original plan was to fish the Trestles but with the high winds on the lake, he decided to stick with the bayou and chose to fish Bayou Bonfouca. "I had a notion of heading to the Trestles but it was way too windy for me by the time I got out there so went to my 'plan b' which was to fish for perch and bass. I hit my favorite spot and it was on! I got a bite on virtually every cast on a variety of plastics," George says. Nunez fished from 11:00 to 2:30 in the afternoon and ended up with a limit of bass and 12 perch all caught on black and chartreuse colored plastics.
NFR Spring Fishing Seminar
The 2017 NorthshoreFishingReport.com Spring Fishing Seminar will be held on Friday, March 31 at T-Rivers in Madisonville. There will be a live band, raffles, and guest speakers including Mike Gallo of Angling Adventures of Louisiana, Andy Jones of Wicked Charters, Brooks Levy of OfFISHial Charters, Bayou Lacombe angler, Forrest Green, Tchefuncte River angler Jeff Bruhl, Todd Shultz of Dixie Trolling motors, and Jeremy Thebault of Jeremy's Marine. The event starts at 6:00 and the admission is free.