The 2016
NorthshoreFishingReport.com
Fall Fishing Seminar was held at T-Rivers in Madisonville and with the onset of cooler weather the subject turned quickly to talk of speckled trout. John Zeringue of Denham springs opened the seminar by talking about fly fishing and covered many topics, such as his favorite places to fly fish for perch and bass on the North Shore, but it didn't take long for the speckled trout questions to pop up.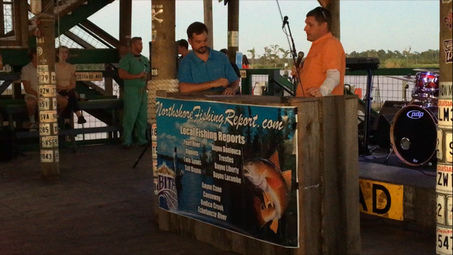 John said most folks think that speckled trout are off limits to fly fisherman but they can, and have been caught on a fly. "A lot of people think that fly fishing is for brim, bass, and redfish - Believe it or not but speckled trout will take a fly. The Clouser Minnow was developed by Bob Clouser in the 70's. He was using it as a smallmouth bass fly up north but they work just as well down here for speckled trout," John said. For those who want to fish it under a cork, John says there's a solution. "There's a funny little thing that we have in the fly fishing world, we don't call it a pooping cork, we call it a VOSI, and what that stands for is Vertically Oriented Strike Indicator. What we do is take a 3" perch float, split it in half, and turn it with the flat side pointed toward the rod and it's a popping cork for a fly rod," John said.

The next guest was someone well known to the Bayou Lacombe fishing community. Forrest Green engaged the audience and chimed in on the much anticipated arrival of the trout into Bayou Lacombe. "They haven't showed up just yet. Every year at this time people like to put it on the calendar and say 'Ohhh they're going to be here on that date' - but fish have tails and they're following the shrimp. This cool front we just had is probably going to do the trick so I'm thinking October 10th should be good for the trout in Bayou Lacombe," Mr. Green said. To preoccupy his time until the trout show up, Green says he's been catching a few sac-au-lait. "I'm catching them off the points of Bayou Lacombe along the north where the big ole' cypress trees are," said Green.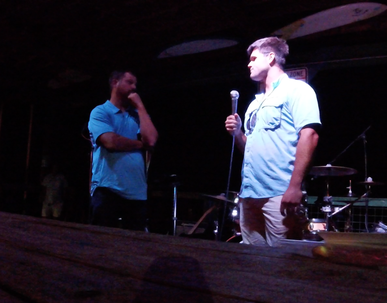 Captain Brooks Levy of OfFISHial Charters continued the speckled trout theme by informing the audience of what he's seeing in the area that he's stationed out of - The Rigolets. "Right now we're in that transition time. We've been fishing the Rigolets a lot and that Pear River area has been really good but those trout should start showing up at the Trestles soon," he said. Levy added his thoughts to a question from the audience about what will happen in the next week or two. "I think it's just going to get better from here on out. We've just had a cool front come through and water temps are going down so the Trestles is going to be turing on in the next week or so," Levy said.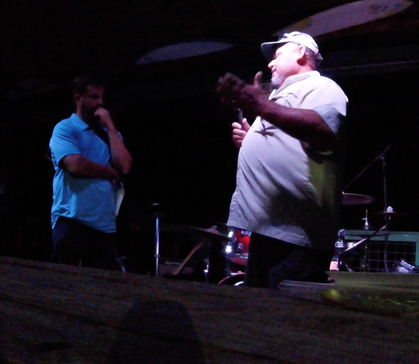 Captain Andy Jones of Wicked Charters is based out of Mandeville and says he's been anticipating the trout showing up further west and on his last trip it looks as if that's about to happen. "We picked up some trout in Lake Catherine so I was kinda excited about that. So they're starting to make they're way this way. I thinking this week you need to look at areas like the Trestles and Highway 11 because it's coming," he said. Captain Andy added that the shrimp are making their way west. "I was out yesterday and saw a lot of shrimp. It actually turned into a bass fishing trip because it was bass that were chasing them so I'm thinking the trout will be right behind them," Jones said.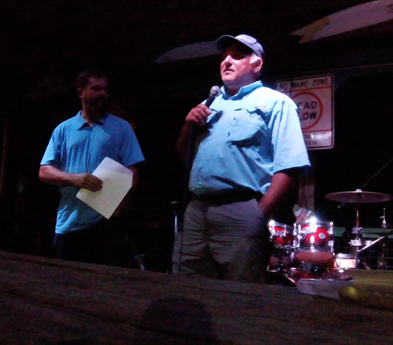 Captain Mike Gallo of Angling Adventures of Louisiana reiterated the nights theme of speckled trout moving into the bayou's and marshes. "I'm thinking the middle of October. I'm accustomed to it taking a couple of cold fronts then you'll see the shrimp start to move out and the trout start to come in. When those two cross you get a really good bite," he says. Salinity has been lower than normal in the lake for this time of the year, but Mike said he doesn't believe that will be a problem. "I still think the freshness of the water won't bother those fish a bit. They'll still come in a feed and it won't be a problem at all. White shrimp are more tolerant than so they're still there. Actually I'm seeing more shrimpers out there than I usually do so that gives me the impression that there's more shrimp in the area," Gallo said.
​