I recently attended the CCA Slidell Chapter Banquet and had the pleasure of talking with Ashley Ferguson and Craig Gothreaux. The two biologists are overseeing the Lake Pontchartrain Telemetry study and were showing off the new and improved
FishLA.org
website which allows anglers to not only track the movements of one fish, but now numerous fish at the same time. "We have never had a website like this before so this is brand new. This is now our visualization tool for the telemetry project. It incorporates three years worth of data for speckled trout, redfish, and bullsharks," Ferguson says. It's human nature for anglers to try and figure these fish out to better their chances of catching them. With the new website, Ashley says not only are you able to track these fish, but it offers different variables to the equation. "You can pick whichever fish you're interested in, and the time of year that you like to fish, and start looking at patterns and results. You can look at the lunar cycles and the water temperatures. You can clearly see these fish moving in and out of the lake at specific times of the year," Ashley says.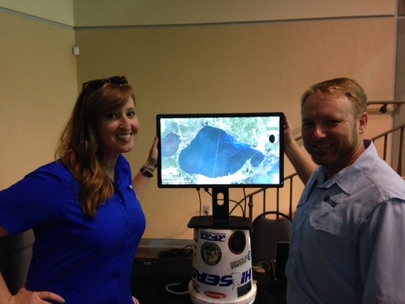 The telemetry project currently collects information from 93 data points. Amongst that data is salinity, dissolved oxygen turbidity, and water visibility. All of this information will be included in future upgrades to the website. "That is all going to be used in the next phase of this project. Our hope is to create a type of weather map overlay where you will be able to turn on and off all of these features," she says. Another interesting feature Ashley is looking forward to is the ability to monitor how deep or shallow these fish are at any given time. "So not only will be able to see if a fish as at the Causeway but you'll be able to see it at let's say 12 feet. When you see these redfish, you'll see them moving up and down in the fall. They're going up to the birds and they're feeding on the surface then they're going back down and you'll be able to see how they use those deep holes in Lake Pontchartrain," Ashley says. Craig Gothreaux adds that the more fisherman cooperate with the program, the more information can be given back to them. "We encourage anglers to release the blue tagged fish so that we can continue collect data. We work for the public so we want to provide what the public wants. It's our job to create, develop, and provide that information so that it can help the anglers."



Bayou Lacombe Croaker

With the last few days of summer being crossed off the calendar, bank fisherman have been enjoying huge numbers of croaker being caught from Lake Rd. in Lacombe. Kevin Lewis lives in Mandeville but has been taking the short ride down Hwy. 190 to take advantage of the great bite on the bayou. "We have always caught croaker and white trout here but this year seems a little better for some reason. Usually we will catch anywhere from 20-30 decent size croaker but this month we actually filled the ice chest with a mornings catch," Lewis says. With the cool fronts on the way, Kevin adds that time is running out on the great bite. "Typically you'll see the bite die out slowly as the water temperatures start dropping but that shouldn't be for a few weeks so you still have time," he says. Lewis has been using a Carolina rig with a #2 hook with market shrimp.