Slidell angler Taylor Valois prefers sight fishing for redfish as opposed to marsh bass. But on his last two expeditions, Taylor says the bass have invaded the duck ponds that he usually fishes along the ICW. "The last few sight fishing trips I've taken have turned into a marsh bass frenzy, so a friend and I decided to take a little further run towards Bayou Bienvenue and put some reds in the box," Valois says. The friends launched at Southshore Bait & Marina around 6:30 a.m. and where greeted with a smooth ride down the ICW to Bayou Bienvenue. At their first duck pond, they found what they where looking for. "We got to the first spot and could see redfish that looked like wall hangers floating in the ponds. We casted towards them but couldn't get a strike," Taylor says. After a few minutes of casting, Taylor hooked on to the first fish of the day. "BAM, first fish to hit was ole faithful, marsh bass," says Valois.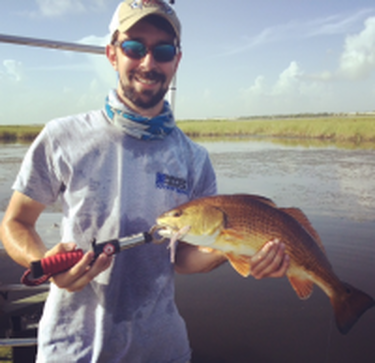 The frustrated fisherman threw the bass back while shaking his head. The team moved through the ponds in the marsh where they saw numerous redfish, but getting them to bite was a chore. We got to a small little pond and casted towards one with a Victory Red Marsh Craw. First cast - didn't take it. Second cast - it pasted right over his nose and he never budged. The third cast right before it got to him I gave it a nice pop to see if I could get an aggression strike and he took it," Taylor says. The team continued to work the ponds and ended up with three redfish by the end of their trip. Taylor says Bayou Bienvenue is a great option right now for fairly clean water. "One of the main reasons I like to fish the Bayou Bienvenue area is because the water stays pretty consistent. With all the west winds lately, all my normal ponds I fish along the Intracoastal have been hard to get to and water clarity is pretty dirty," Taylor adds.


Redfish still plentiful in Lake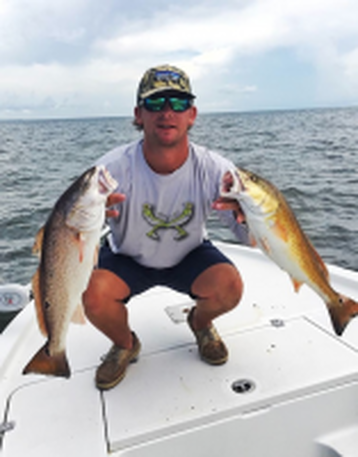 Zack Liberto of Mandeville is the first to admit that heading down to Venice and Delacroix are good options to have when the fishing in Lake Pontchartrain is subpar. But now is not one of those times Zack says. "We've caught our limits of redfish every trip these past two weeks fishing either the Causeway or the reefs," he says. Those who brave the heat are being rewarded this month and it's not taking all day to achieve a nice box. Zack says structure is key to finding the fish. "The water is hot and this is the time of year when the reds suck to the structure and ambush their prey. When the tide's moving hard they have been hanging tight to structure and feeding hard," Liberto says. The water temperatures during the summer months usually signal the end of fishing with plastics. Most fish get finicky with water temperatures above 85 degrees. But Zack says he's still having plenty of success with plastics. The popular Matrix Shad in any natural color has been working for him. Zack adds, "I love being able to limit out every trip only 3 miles from my house. There's no feeling like watching the trucks pulling boats heading across the Causeway to Venice and Delacroix, and not knowing what they are driving over and whats in there own back yard.
​