With crawfish prices through the roof this spring many people have turned to the swamps in search of a price cutting option. Mandeville resident Tony Cyprus Jr has been running deep water nets in the Honey Swamp just off of Interstate 10 and has been averaging numerous sacks every trip.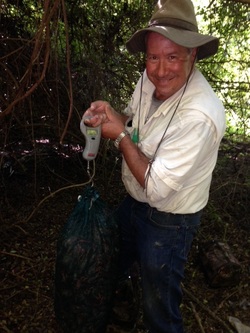 Tony makes his own nets with netting and retention wire and has over 60 nets that he runs from his pirogue in the Pearl River Wildlife Management Area. He primarily uses beef melt but says fish carcasses work just as good. "After I clean my fish I'll take the scraps and instead of throwing them away, I'll freeze them for crawfish bait," He says. Tony recommends using flags to keep your bearings out in the swamp as it can be a daunting task to keep track of all of the nets. "I like to tie a marker to a tree branch where I start putting my nets down to let me know where my first net is. I'll set the nets in a circle and work my way around so that all the nets have a decent amount of time to accumulate crawfish," Cyprus says. The crawfish Tony has been catching have been large ones signaling the end of the crawfish season but he says the shells haven't gotten hard yet so there is still time to take advantage of catching some nice sized crawfish in the swamp.

Causeway
Anglers are taking advantage of calmer winds and clearing water at the Causeway. Zack Liberto has been hitting the 24-mile reef almost every day and has been catching a mixed bag. "We have been out on the Causeway for the last 4 days in a row now and have been pulling in almost identical results each day. Each day we have caught about 30 keeper trout, 2 limits of redfish, and an occasional drum or flounder." Zack says. Liberto adds that one section of the bridge seems to be out producing all the rest. "Most of the fish we caught were taken between the 8 mile marker and the 12 mile marker," Zack says. Like most anglers Zack says it has been a battle finding keeper specks amongst the school trout. "We have been weeding through a good number of small trout but we also have caught a hammer (big trout) each trip with the biggest weighing 4 pounds," Zack says.





Bayou Liberty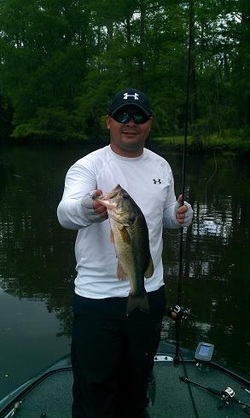 Bass fishing on Bayou Liberty has been outstanding and no one can attest to that more that Denham Springs resident, Ronald Pierre. Ronald and a friend recently made a trip to the secluded bayou where they ran north of the launch and say's he just had a feeling that it was going to be a good day. "As we got to our first spot we noticed that it was slick calm - we had cloud cover and an approaching cool front that was sweeping through the area. It was the type of day that you just knew they were going to bite," Pierre said. As they started fishing one shoreline they heard some commotion that got their attention fast. "I heard a bass block after some shad on the opposite bank we were fishing. The bass was tucked deep under some low lying cypress limbs that sat about 15 ft. off the bank. I eased over and picked up my top water rod and skipped the popper under the brush only to hear KAWOOSH! As the bait settled under the cover, I reeled up the slack and pulled in solid 2 lb. class fish," He said. They ended the day with over 30 bass and recommends concentrating on matted milfoil and shoreline transitions such as grass to rocks or rocks to wharfs.