Taylor Valois of Slidell is no stranger to catching redfish. He's probably caught over a thousand in his lifetime. Which means he's come across thousands of black spots that are located on the tail fin. But on a recent trip to the ICW, Taylor came across a first for him - A redfish with a distinguishing shape on his tail. It happened on his last stop for the day. "Before I headed back, I decided to make one more turn down a dead-end canal with a small pond located at the end of it.
I saw one lonely red in the back corner and pitched my lure right past it and within seconds he nailed it! As I was cranking the copper mule back to the boat, I noticed he had a unique spot on his tail," The intrigued angler says. Taylor sight fishes from a stand in his flatboat and wanted to make sure he got the rare fish in the boat. "Usually, I'll flip reds in the boat from my sight stand because lets face it, getting down from that thing is not fun. Except this time, I didn't want the chance of breaking the line. I got the net, scooped the fish up and looked at the heart shaped dot that colored his tail," He says. Taylor adds, "Normally I wouldn't make a big deal out of this but for me this was a once and a lifetime fish. I may never catch one this unique again." Valois released the fish but still ended the day with 10 redfish and 1 bass all caught on Matrix Shad on an in-line spinner and Shu-Shu Marsh Craw on a weighted swim hook.
Tchefuncte Lunker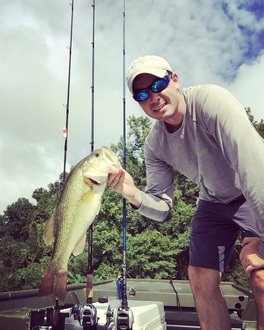 Drake Morvant lives in Covington but often finds himself making the drive to Lake Catherine for his fishing trips. On his most recent trip he made the decision to stay close to home because of adverse conditions. "Because of incoming weather and poor tidal movement, I decide to hit the Tchefuncte River instead," he says. Morvant lives in Covington right on the river and says he started his day early. "I launched from the backyard at the crack of dawn and fished a few bayous and the river until the rain came. I caught five bass using a dark green worm with 3/8 oz. weedless hook. But lost two when they got tangled in lilies," he says. Drake kept all his fish except one, a 4 lb. beauty that he caught in deep water 30 feet from the bank. Morvant added that the river is still muddy but he expects things to clean up soon.
First Time on Cane
Jacob Lacompte recently moved to Mandeville from Houma and admits he really doesn't know where to fish on the North Shore. "I grew up in Houma but now that I'm here, I have no clue on where to even start fishing,"he says. The North Shore fishing rookie decided to try Bayou Cane and was pleasantly surprised. "Since it was my first time on Cane, I did a little more exploring than fishing. I threw a blue/white/chartreuse spinner and had a few bites. Then decided to pull up to a few cypress trees and try a little perch jerkin," Jacob says. After catching a few goggle eye Jacob what surprised at what he hooked next. " I caught a few goggle eye then missed a speck! The speckled trout definitely caught me off guard," he says. It seems Jacob is learning the intricacies of marsh fishing and in a few weeks, speckled trout in the bayous will be a normal thing. But for now, Jacob says "All in all, it was a fun time exploring Bayou Cane and I can definitely see myself coming here a lot more."