It was just like any average day at work for Covington resident Walter Albarado. Walter is an animal nuisance control officer and got a call to rid a facility of some skunks that were holed up in a building off of Lee Road in Covington. After the job he spotted a pond on the property and that all too familiar itch, needed to be scratched. "I love to bass fish! I'm a bass fishing fool! I always carry my spin cast rod with me - so I asked the lady if she mined if I took a few casts in the pond. She told me that I could and that the pond hadn't been fished in years," Albarado said. On Walters first cast, he set the hook on a bass but missed it. "I was just bouncing a black and silver Jupiter worm off the bottom and I missed the-biggest-bass," he said. Walter didn't want to stay long so he planned on coming back another time to see if he could trick the lunker into biting again. "I came back about two days later with my other rod and reel and a handful of plastic worms.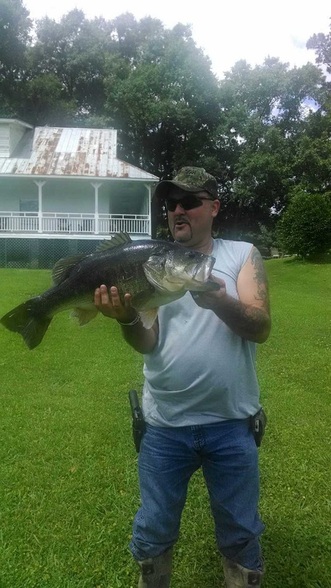 It was on the first cast that I hit him," he says. It took Albarado 18 minutes to land his enormous trophy bass and says "He jumped on me three times. I know when they jump; you have to keep line tight so I was sweating it." Walter says he thought ahead and knew to wear his water boots. He had a woman that worked on the property; hold his pole while he waded into the water to lip the beast. "I walked out in the water, grabbed him by the mouth, and took him in. I was stunned. It was pretty amazing! I knew it was the biggest fish I've ever caught. When I put both my fists in his mouth I told everybody that it was going to go over 14 lbs," Walter exclaimed. Until now, Walter's biggest bass was a 9 lb. bruiser he caught in Bayou Grobec in his hometown of Pierre Part, Louisiana. The 44-year old says "A lot of these ponds get overlooked and they've got a ton of fish in them. If you want to catch some quality bass and sac-a-lait, you get around some of these ponds. The smallest water hole you come across can hold the biggest fish," Albarado says. If the qualification process is a success, the 14 lb. 7 oz. largemouth will break the state record (pond division) currently held by Mark Leicher who caught a 13.50 lb. bass from a pond in Waldheim.

Daybreak Specks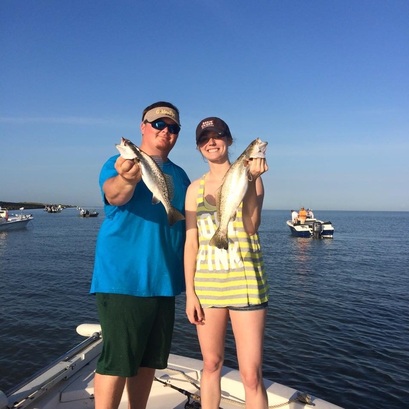 With all the attention that the Trestles have been garnering, Hayden Harper of Mandeville says it's even more important to try and get out to the bridge early "Get out early! Even on a Thursday, boats were stacked up and you need to claim your spot. I have been launching at 5 am. and claiming my area between the 20 - 65 pilings," Harper says. Hayden made a trip with his father Grady and two friends, Barrett and Jen. The team put together a nice box of speckled trout on the tracks. "Each day the up current side has been the best. I know that's not typical, but it's been working. Also a Rucker rig with a 1 oz. lead and Lemon Head Matrix early, then when then sun gets up switch to Shrimp Creole Matrix. Hayden reminds people looking for clean water that, "if you have an east or south wind, the water will always be prettier on the southernmost end of the bridge," he says.




Tournament Results

Bass Assassins held its tournament on Lock 1 and it was Ronald Pierre who took home first place with a 5-fish stringer weighing in at 10 lb. 12oz. Eric Ciko placed second with a bag weighing 9 lb. 10 oz. In third was Lance Jarrell with 4 fish weighing 6 lb. 4 oz. Juan Vilicovic won the big fish division with a largemouth that tipped the scales at 5 lb. 2 oz.

FPBA held its tournament on Bayou Liberty and it was the father-son team of Wayne Richardson and Wayne Richardson Jr who came out on top with a 5-fish stringer weighing 7.52 lbs. With the win, Wayne Sr. moves into #7 spot in the Northshore Bass Series Power Rankings. In second were Steve Ruschmeier and Casey Cramer with a total weight of 6.80 lbs. Ruschmeier and Cramer also won the big bass division with a bass that weighed 2.78 lbs. Richard Bennett and LaShun Robertson finished third with a limit weighing in at 6.30 lbs.

Pearl River Team Trails held its tournament on the East Peal and it was the team of Terry Jones and Jason Stevens who took first place with a 5-fish stringer that weighed 11.6 lbs. In second were Charles Dauzat and Mark Mohr who brought in a 10.2 lb. bag of fish. Fishing without a team mate, Daniel Schommer was able to grab third with a total of 10.1 lbs. Steve Hadley was able to win the big bass division with a largemouth that weighed 3.3 lbs.