Summertime usually brings a different way to fish. It also brings in different types of fish that we don't see throughout the rest of the year.
Zach Kilgore of Slidell was fishing from land and says it was hard not to notice a school of Jack Crevalle moving through the water. "There was a school of 15-20 of them and they were slamming mullet against the bulkhead, Kilgore says.
| | |
| --- | --- |
| Zach had noticed the frenzy the last time he was fishing there, but this time he was ready. "I threw a 6" Frenzy Mullet at them and the fight was on!" Zach says. After a 30-minute fight, Zack had landed the monstrous fish and says they're making themselves right at home with all the bait-fish in the area. "They're all over the place busting up mullet near any bulkhead within proximity of the Twin Spans. I've seen them from Lakeshore to Eden Isles," Zach says. | |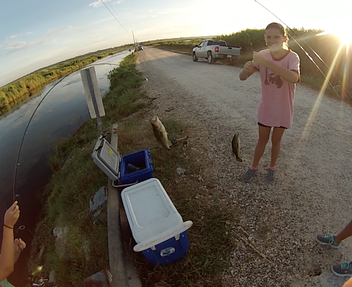 Lake Road Bass
With the kids out of school, there's no better time than right now to get hem hooked on fishing. I took my three daughters, Kasey, Alli, and Maddie for a quick and easy trip on Lake Road in Lacombe. Armed with a few live shrimp from Bayou Adventure, we found a nice open spot to park on the side of the road by the third bridge. The water was falling hard and my oldest noticed. "This is good! Moving water is good," Kasey said. She's been fishing with me since she was a baby so she has picked up on comments I've made in the past. As the girls started baiting their hooks it didn't take long for the chaos to start. I heard my youngest mumble "I think I got something," as if she was unsure. I knew as soon as I turned around she would be reeling one in. I was right. Maddie reeled in the first fish of the day and sent the other two into a panic to not be the last one to catch a fish. The pattern was simple. A #2 hook on the end of the line and a live shrimp. I find that the less interference with weights and corks, the better when fishing with children. The kids simply casted out and let the shrimp do all of the work. We spent two hours catching bass after bass and ended up with a nice mess of fish for a fish fry later on that day. While it seems like it just got here. The days of summer will be gone before you know it. If you are looking to take your kids fishing this month, it doesn't get any easier than Lake Rd. in Lacombe.