It's no secret that the recreational and commercial crabbers that call Lake Pontchartrain home, have been struggling for years. Arguments range from low salinity theories to the BP oil spill effecting the birthrate in 2010. Whatever the argument is, the end result is inarguable fact that crabbing in Lake Pontchartrain hasn't been what it used to be. But things are changing, and if you haven't been down Lake Road in Lacombe lately, you might just miss out on a banner year for blue crabs. Shannon Griffin owns Bayou Adventure in Lacombe, a bait shop that is frequented by crabbers in search of crab net's, turkey necks, but more importantly, information! "The crabbing here has been excellent this year! The numbers we're seeing are better than last year and the year before," Griffin says. One popular belief is that the BP oil spill has played a role in the years following the spill. "I think we missed a few life cycles in there. The numbers we're seeing now are comparable to the numbers we were seeing before the oil spill," she says. Shannon says she's seeing people coming from places she's never seen before. "The people are coming from everywhere! We're seeing people from Hammond, Baton Rouge, Kentwood, and the South Shore. I'm selling crabbing equipment two to one over fishing right now," she says. I took a ride down Lake Road and met James Blanchard of Pearl River. James is one who of the many who has been taking advantage of the multitude of crabs being taken from the area. "We've been out here for about two hours and we have three dozen crabs," he says.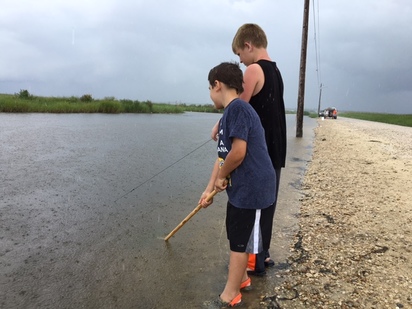 Blanchard made a trip with his grandson Colby. The two have been crabbing there before, but this time James decided to take his girlfriend Trish Vinet and her grandson Colby, along for the fun. It was their first time crabbing on Lake Road. "We're having so much fun out here. I told Poppa (James), We'll never buy crabs again because it's so easy to catch them out here and the boys are having a blast," Vinet said. James opened up the tailgate on his truck to show me their catch which revealed numerous #1's, #2's, and a few gumbo sized crabs mixed in. James said when crabbing in Lacombe, current is important. "When that tide quits, they quit. When that tides rolling, we really do well out here," he said. James recommends using a weight attached to the end of the line. "If you throw the chicken out without a sinker, the current pushes the bait up near the shore," Blanchard said. Just then I was interrupted by the couple's grandson's in the distance. They had just missed a big crab on the other end of the line. James stared in their direction and added, "I love bringing the kids out here. This is something they'll never forget. These are memories that will be with them forever."
I soon strolled down the shoreline and witnessed the two boys in action. One was slowly pulling in a taught line while the other was hunched over with the net ready for action. "You gotta be slow and you can't rush when you're pulling them in.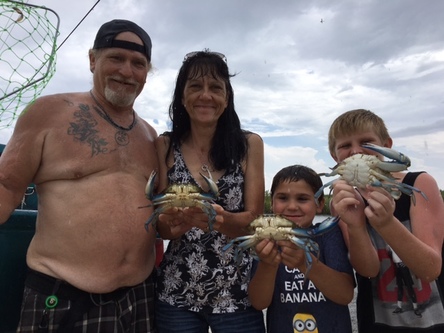 You gotta be patient. I like to count - one banana, two banana, three banana, just so I don't go too fast," Colby Culotta said. Colby continued to tell me about his routine. "When we first get here we get everything set up. Then I watch for the lines that are tight. I'll start at the first one we set and work my way down and whatever one is tight, I'll start pulling it in," Colby said. The two favorite baits among the crabbing community have always been turkey or chicken necks, but Colby says he recommends legs. "You can go to the store and read the packet, they're called drumsticks," Colby informed me. As I watched the two boys add crabs to their bucket Colby turned and to look at his Grandpa and added, "My Poppa is the best Grandpa I know! He is awesome! I wish I could do this everyday!"
The crabbing bite on Bayou Lacombe looks to improve throughout the summer and with the ease of setting lines along Lake Road, catching crabs on the North Shore couldn't be any easier. Now is the time to start a new tradition and make memories that will last a lifetime.