With the opening of the Bonnet Carre' Spillway, many Lake Pontchartrain anglers were of the opinion that the spring trout run that the lake is know for, may be in jeopardy. When Ponchatoula angler Justin Bowles ventured to the bridge, the last thing he thought he would catch was a trout. "I've been watching the Modis satellite and I knew that there was a good pocket of good water on the Northshore around 3 miles out, so I thought it was a nice day to head out and run the boat," he says. Justin noticed boats trolling like they typically do around this time but never thought much of it until he started seeing them reeling fish in. "We didn't see anybody jigging out there , everybody was trolling and they were catching fish. We saw them trolling and pulling in fish," Bowles says. Justin ended the day with 17 big speckled trout and says the water clarity seems to be coming back.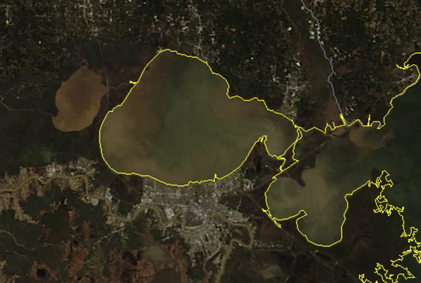 "The water was a totally different color than I've ever seen out there. It still had clarity but it was a different shade. It was like a tannish clear color," he says. The Ponchatoula angler adds that he thinks this spring will be even better than normal. "I was thinking that the spring was going to be good because when they opened the spillway in May of 2011, it was incredible in the fall - even better than an average fall. I had no idea it was going to be this good right now," he says. One thing that Justin noticed was the lack of bait by the bridge.
"I didn't see a flicker of bait the whole time I was fishing. Normally when you're fishing out there, you look down and you'll almost always see baitfish swim by. I cleaned them and only one fish had something in it's stomach which is rare for out there. Every time I clean fish from the bridge they're pretty much busting," he says.
Geoghegan Bass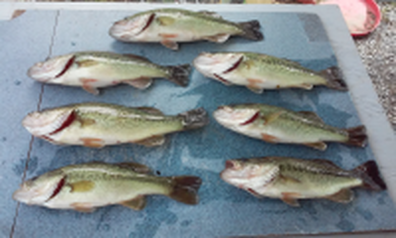 It's not rare to hear talk of Geoghegan's Canal producing fish during the cold weather months. The dead end canals that twist and turn through the typically saltwater marsh is a destination for speckled trout every February, and has been for years. Slidell angler George Nunez made a trip to some of the canals that branch off of the main Canal and what he found weren't trout of the speckled variety, they were green. George made a late morning trip and finished up around 3:00 P.M. with seven largemouth bass and says that finding clean water was the key. "It was very windy, the water was dirty until I pasted the pond and then it cleaned up considerably - You could see color line," he says. George caught all of his fish on a blue and white tube jig on a spinner and says that the dead-end canals were where the action was. "Just about every dead-end canal gave up a bass," Nunez says.
2016 Northshore Bass Series
The Northshore Bass Series is cranking up for the 2016 season and two tournament anglers have signed sponsors. Gus' Tackle and Nets of Slidell will be sponsoring tournament angler Joe Picone for the 2016 NBS Season. Tommy St.Clair's
GotchaDecals.com
will be sponsoring Jimmy Dorris. Dorris finished the 2015 NBS Season at the #4 spot and looks to be in contention for the coveted Northshore Bass Angler of the Year Title for 2016. If any local businesses are interested in sponsoring a local tournament for the upcoming NBS Season please contact Keith at 985-373-5974 for more information.