Now's the time that kayak angler Jeff Kreller typically starts fishing for speckled trout along the northern shoreline of Lake Pontchartrain. But with murky, freshwater that has inundated the lake, Jeff didn't expect much speckled trout action. So when he set the hook on his first bite and reeled it in, Kreller had his doubts as to what he was holding in his hand
"I found him in dirty, fresh water, and it's the right time of year for them. He had spots on him and was white and silver. So I thought it might be a sac-a-lait!" Jeff jokes. Jeff's short afternoon trip proved to be a unexpected but very successful speckled trout trip for this time of the year as he caught numerous trout from 13" - 19" in length. Jeff says there was no particular pattern to the bite. "I caught them on everything. I used H&H or Hybrid paddle tails on and off a cork. I used a shallow crank and a suspending stick bait. Some bites were aggressive but most were very subtle," he says. One thing that Jeff did pick up on was that the trout seemed to be in tight schools and adds, "It's my belief that they were in tight small schools cruising by and you needed your lure in the right 'lanes' as they passed.
​
Rice Fields Canal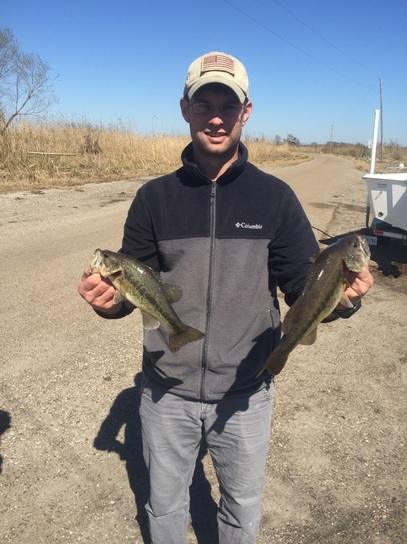 As the weather warms, so does the hot spot on the Tchefuncte River known simply as the Rice Fields Canal. Jacob McCutcheon recently made two fishing trips. On his first trip he says the water was low, which can be expected for this time of year. "The water was LOW! With all the N. NW. wind we've been having I'm guessing the tide was just pushed way out more than normal," Jacob says. Mccutcheoon started fishing the grassline but says the line was not as deep as he is normally used to. "I started finding that the grass line that's normally about 6' deep was only 4' deep and the tops were laced over forming a thick mat. I started pitching a black and blue Fatty Craw on the deep water side of the grass line and it was slow going but I ended up with a bunch of fish after about three hours of fishing," Jacob says. Four days later McCutcheon went back to the same canal and says the water levels were much better but he had to improvise because of a faulty trolling motor. "I had some big time trolling motor problems and it made fishing tough with the wind blowing directly across the canal. I'd have to fire up the big motor, reverse to the north side of canal, and slowly drift back towards the bridge at the same time," he says. Jacob started targeted lily pads that had broken loose due to the rising water. "There were a lot of lilly matts that had broken loose and were flowing out of the canal towards the river. I was again flipping black and blue, but this time a Rage Craw. First cast to the first mat, BOOM! Hammered it! It actually surprised me because the bite was so soft a few days earlier, but I landed a nice 4 lb. fish," he says. Jacob released the lunker and continued to fish the pads. I started fishing the deep water side of the grass SLOWLY! I can't stress that enough. I think I got a fish off of every lilly mat except for two, and the smallest fish I got was 1.5 lbs. I kept a few for the pan, but let most of them go. All in all a good trip, 5 bass, full belly!" Jacob says.