As fisherman, we often get caught up in the present, asking where are the fish biting right now and what are they biting on? After all, who wants to waste time looking back at what are now memories. But they say the past is the best indicator of the future, is what happened in the past, and nothing can be more true than fishing here on the North Shore of Lake Pontchartrain. So as we ring in 2016, I thought it would be interesting to take a look back at the best baits of 2015. I've ventured across the North Shore and stopped in at four bait shops from Slidell all the way to Ponchatoula to see what the best selling lures were in 2015.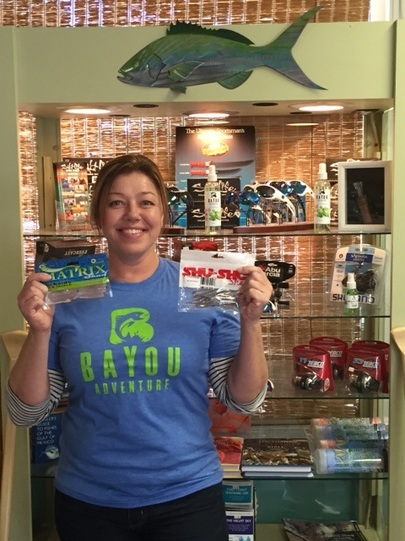 My first stop was Gus' Tackle & Net's on Old Spanish Trail in Slidell. I got a chance to talk with Gina Myers who says the Matrix Shad and Vudu Shrimp were the top selling lures in 2015. With their location being so close to the Lake Pontchartrain bridges and the Rigolet's, it's no surprise that the saltwater lures were the top sellers. But Gina says, "for a while there they were using the Zoom Super Flukes in the Rainbow Shad color - that was in September and October - we couldn't keep them on the shelves." Gina also adds that the usual trolling baits like the popular Rat-L-Trap and the MirrOlure crank baits haven't been selling like they usually do. "Trolling's usually a big deal around this time but Santa didn't do much trolling this year," Gina joked.
As I ventured East on Hwy 190, I made a stop at Shannon Griffin's Bayou Adventure shop on Lake Rd. in Lacombe. Shannon greeted me with a warm cup of coffee and proceeded to reminisce about 2015. Shannon said in 2015, speckled trout was king. "When the speckled trout started showing up in the spring and fall, everyone was buying the Matrix, Shu-Shu, and the Vudu Shrimp. When the trout are going after the shad - the shad will do best, and when they are going after shrimp - we'll see the voodoo selling," Griffin said. In October of 2015, the Kayak Fishing Boondoggle came to Fontainebleau State Park just down the road from Bayou Adventure. Shannon says "When Boondoggle came and word got out about the Shu-Shu's in the Gunmetal color, I couldn't keep those in stock. But Shannon said the trout are long gone, and right now everyones attention is on those Bayou Lacombe sac-au-lait. "Right now we're selling a lot of the Bobby Garland baits in the Monkey Milk color. Sac-au-lait lures are hot right now," she said.
My next stop was Route 22 Gas & Bait in Madisonville, where I pulled into the unique 50's themed gas station and was greeted by Elvis Presley's "Little Sister" playing as I walked through the door. Nick Gunnell said that 2015 was all about Matrix and Shu-Shu. "I would say our best sellers were the Matrix and the Shu-Shu last year but different things sell at different times," he said. The Causeway is a popular trout destination for North Shore anglers and Nick says the Matrix is clearly king when the Causeway heats up and when the bass bite picks up on the Tchefuncte, "We sell a lot of Humdinger Spinnerbaits. In fact, had a few customers wanting the whole cards of them to use back in the rice fields," he said
My final stop was a popular bait shop in Ponchatoula, Marshland Sports. Myron Prather owns Marshland sports and says that in 2015, Matrix was king. "The Matrix Shad is still best seller and if I had to choose a certain color, I would have to say the Lemonhead color was the most popular," he said. The power lines in the western section of Lake Pontchartrain are always a good spot for trout, and Myron says that the trollers were using Mir-o-lures in 2015. "For some reason they weren't doing to well jigging last year. They were doing best, trolling. People came in here looking for those MirrOlures. That's what they wanted," he says. Prather said. As far as bass fishing goes, Myron says the top-water frogs sold good this year due to the warmer than usually fall. I sold a lot of the Booyah Pad Crasher Frogs and the smaller Sro-Frogs all the way until this month because of it being so warm," he said. A local lure maker also made Myron's top seller list in 2015, "Something that's been around for a while but lately I've picked up sales on are these guys out of Laplace that make the Delta Lures. That Bladed Thunder Jig they make did great in 2015," he said.
​​