Springtime is here! Along with the warming temperatures, the bass bite is heating up in the North Shore's rivers and bayous. But one of the biggest deterrence's for bass anglers this month is muddy water. April is known for it's cool fronts that blow through weekly, bringing sudden temperature swings and high muddy water. Perhaps no river reacts to rainfall as much as the mighty Pearl River. Chris Basey has been fishing the Pearl River system for over a decade and says while this month the East Pearl River may be muddy, there's something you should keep in mind. "The West Pearl has been up at 15' for two weeks now and when it gets to that level, it pours over to the Wastehouse and the whole East Pearl gets muddy.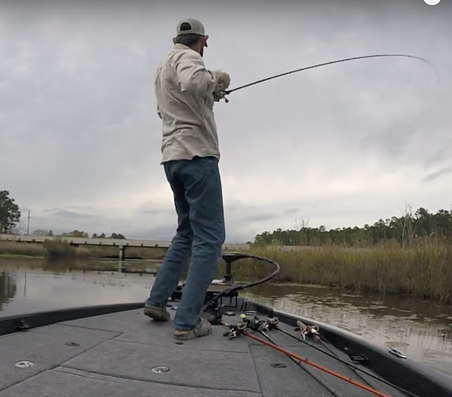 So when that happens over night it's a big issue. The fish don't acclimate to a change like that when it happens fast. But the water has been muddy for quite some time now so they've acclimated to this muddy water," Basey says. Chris made a scouting trip to East Pearl in preparation for an upcoming Bass Assassin's tournament and says the first thing he's noticed is, "A lot of times when I fish this river. I'm fishing a main drop in open water. But right now these fish are all up in the trees and all in the balls of stumps and lay-downs holding really tight to cover because of the water movement," Chris says. Fishing the drains and cuts that lead out of the swamp has always been a popular option for those who fish the Pearl River system, but it's this month where those ditches can prove to be invaluable. These cuts serve as a release valve for overflown swamps and ponds. The water in these areas are measurably cleaner than the water in the main river. When the water spills into the river, it not only brings cleaner water into the waterway, but it also contains crawfish and baitfish that bass will zero in on. Chris says to pay attention to these drains that spill clean water into the river no matter how small they are. While changing what to look for aesthetically will help you catch more bass during muddy conditions, changing your lure selection is the other half of the equation. Basey says instead of using lightweight, natural colored lures, it's best to go bold. "You always want to try and use darker colored, bulkier baits.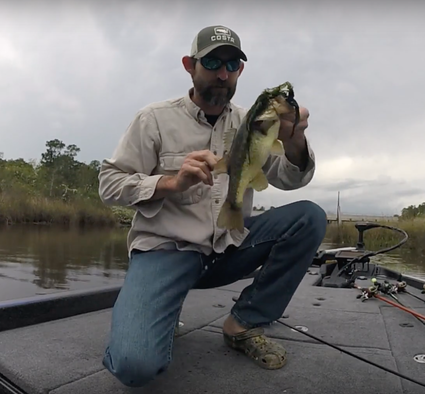 The darker colors give a sharp contrast to the surrounding water and the bulkier size puts off more vibration so that the fish can feel it even if they don't see it," He says. During the month of April Chris says flipping is his first option. "When flipping I use a thicker craw to give it a more bulkier look. Back and blue are my first choices," Basey says. While the Pear River can be a daunting challenge to anglers who aren't used to fishing muddy water. Chris says it's important to remember that the fish are definitely there and biting right now. "You can still catch fish here! There's plenty of fish to be caught right now. You just have to change your tactics to adjust to the conditions that the Pearl is offering in April," he adds.