Slidell angler Taylor Valios admits he's looking for that STAR Tournament winning speck. "This month starts the STAR competition and I hope Lake Pontchartrain brings in a big girl for me," Valios says. Taylor has been fishing the Trestles in Slidell and says the bite on the bridge is fantastic this month but what you should really focus on is the moon phases if you want to catch those big speckled trout. "You want to fish a few days before and a few days after the full and new moon. Specks release eggs and go on a buffet style eating binge to build up energy. While I've been pulling in numbers, the quality of specks is really starting to show," he says. On Taylors last trip he and a friend ended the day with a 2-man limit of speckled trout. Taylor says they are biting on just about everything right now. "Drop shot rig or Carolina rig is the way to go with live bait. I tried multiple plastics and all of them produced. Double rigged Matrix, Shu-Shu on a 3/8 ounce jig head, and just a Matrix on a goldeneye jig head," he says.



Causeway Specks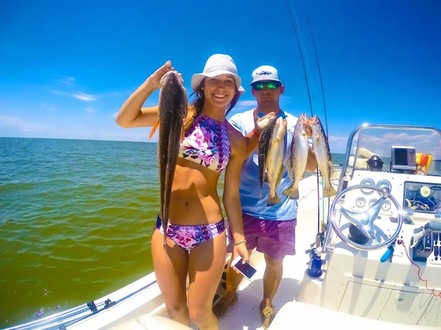 It may not be getting the attention that the Trestles is, but the 24-mile reef known as the Causeway is starting to produce speckled trout. Mandeville angler Zack Liberto has been fishing numerous times this past week and says he's been able to find fish on every trip. "Things are starting to turn on. We haven't had the big girls show up yet - or limits -but we have put together some nice mixed boxes every trip," Liberto says. Zack says most of the damage has been done with Matrix Shad on a 3/8 oz. jig head and it's important to zone in on certain spots. "Pay attention to the where you are getting bites and catching fish. Most of these fish are relating in the exact same spot on each set of pilings and much like bass fishing, you can eliminate a ton of water by paying attention to where you get bit and continuing to run that pattern," he says. Zack says along with the specks, he has been catching a few redfish mixed in. "Oddly enough the redfish have shown up on the bridge a little early this year. They typically school up on the bridge around early June, but we have been hooking into two or three every trip," Liberto says.


Hwy 11 Bridge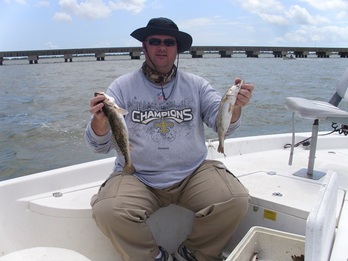 Often overshadowed by the Trestles, the highway 11 Bridge is producing speckled trout this month. Chris Daniel and Buddy Hereford recently made a trip to the Trestles and beat the crowds with their early start. "We were at the Trestles just in time to watch the sunrise. Getting there early allowed us the opportunity to work our way down the pilings for a while before the rest of the armada started showing up. Unfortunately, nothing was biting," Chris says. The team was forced to make a move so they decided to move over to the Hwy 11 Bridge. "We made a move over to the Hwy 11 Bridge not too far from the south shore and started landing fish almost immediately! We picked up about 25 over the next few hours then the tide went slack and the bite died," he said. Chris and Buddy were sure they could get a few more with a move back to the trestles and they were right. After a little trolling and jigging the pylons, the team put 5 more specks in the box to give them a total of 30.



Tournament Results

Bass Assassins held its tournament on Bayou Liberty and it was Sam Jenkins who came out on top. Jenkins put together a 5-fish bag that weighed 6. Lbs. 6 oz. In second was Nick Giovingo with a limit that weighed 5 lbs. 15 oz. Jason Pittman finished in third with a total weight of 5 lbs. 14 oz. The big fish award went to Ricky Benitez with a 3 lb. 4 oz. bass.



Upcoming Tournaments

Bass Assassins is holding a tournament at Lock One on Sunday, May 17. For more information please call Chris Basey at 985-707-7857.

The next Liars and Lunkers tournament will be May 17, at the East Pearl River. For more information, please contact Chad Hartzog at 985-502-3217.