In the ever changing world of fishing, anglers are constantly trying to keep up with the hottest lures, biggest boats, and cutting edge rod and reel setups that they think are needed to catch fish these days. "You can have it," says Lacombe resident Dennis Smith. Dennis likes to keep things simple when on the water and has been doing so for the past 40 years. Smith fishes out of a 14 ft. fiberglass pirogue year round and says, "To me, there is nothing like fishing out of a pirogue. I would rather fish out of a pirogue than the Cadillac of boats." It's something he was taught from his father who passed away three years ago and says finds comfort in doing things like he remembers doing them. "I'll go old school over this new stuff any day. My dad was old school. All this newfangled stuff they have coming out. Let me tell you something about my dad.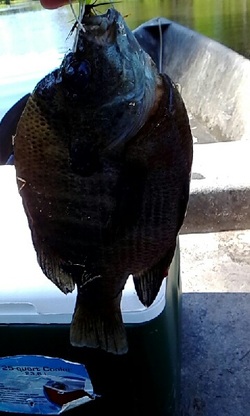 My dad would go out there and put his finger in the water, taste it, look at the bait, and say 'this is what I think we should use today,' and that's what we used. I remember wearing the fish out when we would fish together," He said. Even the boat launch that Dennis uses is a testament to his style of fishing. "I launch my pirogue in a drainage canal that they just dug here in Lacombe- Slide right down the ditch maybe 35-40 yards and I'm in Cypress Bayou Canal," he said. Right now Dennis is targeting bluegill on Bayou Lacombe and has been doing really well. "As soon as those bluegill get on their beds I like to start fishing them. That's when you can wear out the males because they are in big groups. I can go in and take 8 or 9 fish out of a certain area then move on to a new spot," Smith said. His latest trip with his daughter produced 56 bluegill using fly rods. After the trip the duo headed home where Dennis fried the fish up and says he doesn't have any problem finding bones in his fillets. "The ones I keep are so thick I fillet them with an electric knife. My dad would fish venice a lot and after a trip he was too tired to clean the fish so it was my responsibility. Because I had younger siblings I was tough to not leave any bones when I cleaned fish," he said. After cleaning them Dennis says he skips the egg wash and dips them straight into seasoned fish fry before putting them into the grease. Bluegill isn't the only fish he's been catching.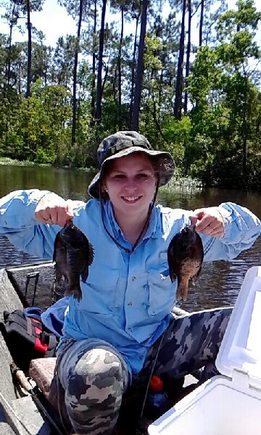 Conventional wisdom says in order to catch bass during the spawn you must throw baits on beds in order to get a reaction from a protective bass but Dennis says flies work too! "I've caught I don't know how many hundreds of bass on a fly while they were on their beds. They can't stand that little fly sitting over their head. They will pick that plastic worm up by the tail and move it but with a fly- there is no tail- It's all hook," Dennis said. "I caught a female on a fly three weeks ago back in Powell Canal. It was so big all I could do was hold my hand around the line and let her pull me around where she wanted to go. She came out of the water once and tried to shake the hook but that fly stayed in there. I finally got her in, gave her a kiss, and released her to fight another day," said Smith. Dennis says his favorite fly to use is an orange and black Mepp's Pop N' Hot Popper Fly.