This month anglers on the Northshore have many options to choose from when deciding what type of fish to target. Ponchatoula fisherman Lawrence Lemoine has been fanning out over the Northshore and has made three trips to three different areas. He started his week by making a bass fishing trip to Bayou Liberty where he says he caught lots of small fish along the wood structures. On his next trip he decided to fish Liberty's neighbor, Bayou Bonfouca, where he did well early in the morning. "Friday, I hit Bonfouca and caught some quality fish on top-waters early. Later in the day, I caught some smaller fish fishing the grass lines along the shore," Lemoine says.

On his most recent trip he took his son along and the duo found some bass in the marsh on the East pearl. Lawrence started fishing top-waters, while his son used soft plastics. "On my second cast I put a football sized bass in the boat. On my 5th cast I caught a spawned out 3 pounder. Things were looking good with the top water baits as my son was struggling to feel the bite with soft plastics. I told him that it would be soon enough that he'll start catching up as it got later in the day," Lawrence said. That thinking came to fruition as the water temperatures started to rise. "On one stretch of stumpy bank, I threw my top water and didn't get any bites. My son threw his soft plastics and caught 4 on the same stretch of stumps. Now I ain't stupid! We both fished soft plastics on the bottom for the rest of the day catching 30 to 40 bass only to leave them biting at the end of the day," Lemoine says.



Grand Lagoon Bank Fishing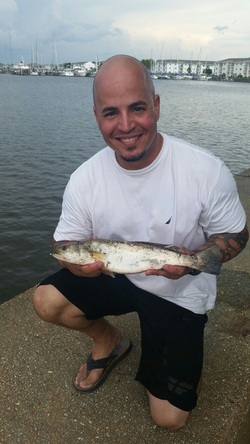 Gabe Scoefield and his family recently moved from the Blue Ridge Mountains in North Carolina to Slidell and has been fishing the Grand Lagoon from the concrete wall opposite of "The Dock". On his last trip he ended up with a nice mix of fish. "We started around 11 am. and finished at 5 pm. with 8 spotted trout - The largest being 18". My wife caught some channel cats and my 6 year-old caught some cats along with some croakers," Gabe says. Scofield says the trout were feeding on the bottom close to the concrete structure. "The trout were hitting closer to the wall. I tried using a top water lure but had no luck so I tried a Matrix Tiger Stripe lure with red Golden Eye jigs and that did the trick." he says. Being from North Carolina, Gabe admits he's a little lost when it comes to fishing here on the Northshore and that he is eager to find new places to fish. Grand Lagoon is super convenient for me because I live in the condos right there, but I know there are other places - I just don't know how to get there," he says.


Northshore Fishing Report Radio

Readers of NorthshoreFingingreport.com and the Northshore Fishing Report weekly column in the Slidell Independent and Tammany West Publication will now have one more way to consume NFR. The first Northshore Fishing Report Radio Hour aired on Don Dubuc's "More Outdoors with Don Dubuc" on Saturday, May 23 from 7:00 am – 8:00 am. and was a huge success! The show will continue to air every last Saturday of the month on WWWL 1350 AM. A special thanks goes out to everyone who has supported the website and thank you to all the readers of the NFR column in the Slidell Independent and Tammany West Newspapers!

Tournament Results

Liars and Lunkers held its tournament on the West Pearl and it was the team of Clay Zeringue and Tommy Cooper who came out on top with a 5-fish stringer weighing 14.58 lbs. The team also won the big fish award with a 3.94 lb. bass. The win bumps Zeringue up to the #2 spot in the NBS Power Rankings and Cooper moves to the #5 spot. In second was the team of Charles Dauzat and Mark Mohr who weighed in a 10.90 lb. stringer. The teammates move into a tie for the #4 spot in the Power Rankings. Morgan and Phil Schutte took third with a bag weighing 8.24 lbs.

Upcoming Tournaments

The next Bass Assassins tournament is set for the Tchefuncte River on June 7th. If you have any questions you can call Chris Basey at 985-707-7857.

Liars and Lunkers will be holding its tournament on June 14th at Crawford's Landing. For more information please call Chad Hartzog at 985-502-3217.