9-year-old Blake Polk of Pearl River recently made a frogging trip on the Pearl River with his family and says the frogs were plentiful but small. "The frogs started out small - They were practice so when the big ones came I would be able to catch them with my hands," Blake said. With a little perseverance, the bigger frogs did show up and Blake says one even jumped into the boat! "I missed one that jumped in the boat but caught him by his legs when he went to jump out of the boat," he says.

| | |
| --- | --- |
| The family had 17 frogs by the end of the night and Blake was getting tired. That's when Blake's Uncle Kevin chimed in. "I was getting tired, but my Uncle Kevin said 'At least catch one more!' Then we saw the biggest one of the night and I caught it! After that I was ready to go home!" Polk says. | |
Bayou Cane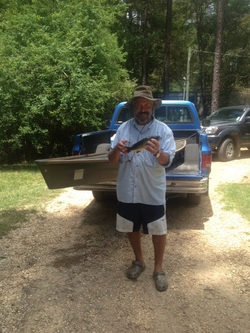 Ask any local angler and they'll tell you to wait for the cold weather to show up when trying to catch bass on Bayou Cane. The small, shallow bayou in Mandeville is known for producing limits of bass in the winter months. But Tony Cyprus Jr of Mandeville, just couldn't wait that long to put some bass in the boat. Tony fishes out of a 13' Chapman Pirogue and says he knew it was going to be a good day when he spotted a friend on the water. "He already had five bass when we crossed paths. He gave me a tip about where he had found them, so I started pecking away", Tony says. Cyprus was using a 7.5" Culprit Worm rigged weedless with a red Gamakatsu wide-gap hook. Within a few hours he had his limit of chunky marsh bass. Tony gives some tips to finding bass on cane. "Try to nice swooping curves in Cane and start chunking adjacent to the lush grass beds early. When it heats up, start tossing towards the middle of the bayou where the real big boys and girls hang out!"


Crankbait Kid
12-year-old Peyton Waller has always liked fishing with crankbaits. "My dad and I have always been interested in square-bill crankbaits. Until a few weeks ago, wooden square-bill crankbaits were the rage in our house," Waller says. Thats until Peyton and his father discovered W.E.C. Crankbaits which are made of balsa wood. "Even though those crankbaits were $21.00 each, we couldn't resist. We bought two and loved them," Peyton says. Waller loved them so much he decided to try making his own. "Since I was already fascinated in making my own lures, I figured I'd give it a try and make my own crankbaits," he says. Payton's father brought home all the ingredients to make their own lures including balsa planks, knives, saws, epoxy, and sandpaper. Peyton slowly started creating his own lures. "I got my mom to trace out a crankbait body on paper. She then drew the design on the balsa. I got my saw and started cutting off the edges. I took my knife and shaved balsa off all the edges. Next, I started sanding - lots of it! I took my sandpaper and sanded off whatever looked like it shouldn't be there. I kept my set of calipers close by and set to the correct length, width, and height to get my crankbait close to being even," he says. Upon finishing his creation, Payton tried his new lure out. "I had to test my bait out, so I went to my pond to see how the bait would react. As I reeled it in, the bait had a wide wobble and an incredible hunting action. This gave me the idea to call my bait "The Beagle." If you've ever seen a beagle hunt, it has its nose down and tail up as it runs through heavy brush, running back and forth. My bait had this action," he says. Payton liked the action so much that he decided to use it during a tournament. He entered the Bass Assassins tournament on the East Pearl, where he finished in first place in the "Little Tanglers" Division. "To win with something that you created is amazing. Anybody can purchase a lure, but most people can't make them, and won't take the effort to make one. I've always been a creative person and enjoyed making things, so making my own fishing lures is an enjoyable experience," he says.