You won't often find the words "picky" and "redfish" in the same sentence. Slidell angler Shane Green has been sight fishing redfish lately in Lake Borgne and that's just what he's come across on his past two trips. On his first trip, Shane says there was no shortage of redfish, but getting them to commit was a challenge. "I counted 43 redfish. I casted at half of them and they wouldn't even give my lure a second look - the other half ended in short strikes," Green says. On his latest trip, Shane headed back into a duck pond to try his luck with the frustrating fish. "I found a great spot and used the light breeze to my advantage to float as much as I could without using the trolling motor. I hate spooking redfish this time of year. You usually only get one shot at them so you need to be stealthy," Shane says. It didn't take long before the enticing fish had Shane's undivided attention. "I heard a nice explosion on the water about 200 yards from me along the shoreline.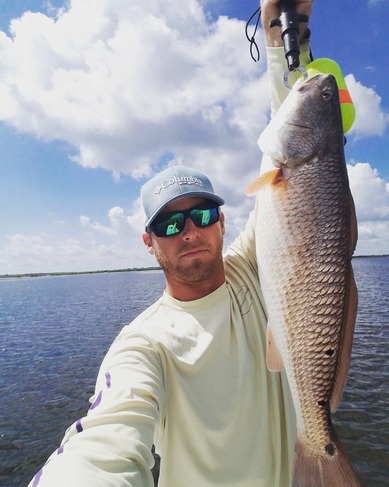 As I got close, I saw about 6 to 8 tails up. My blood was pumping but I stayed patient to get into the perfect position," he says. Shane got into position and then casted. "I casted over them and all hell broke loose! Swirls, splashes, and waves! As my line came across them I felt a huge hit and then it let go. So I'm thinking, here we go again - pickiness! I started shaking my head but I was trying to think about what would change there mind," the dejected angler says. Shane decided to switch over to a fluorocarbon leader and tied on a Z-Man Paddler Swimbait. "I went up the shoreline and started working my way back to where the big school was. The first red I saw I casted to and it ate it, and the hook was set! Finally!" Green says. That was all it took to spark the schools interest. Shane says their pickiness turned to greed after seeing another redfish with the lure in her mouth. "Her buddy was trying to bite the lure out her mouth as I reeled her in. What a show that was!" added Shane. The relived angler caught two more reds on his way out of the pond and says it was a great feeling finally figuring out what they wanted.
Twin Spans
While the speckled trout bite is on the decline, there is no shortage of black drum in Lake Pontchartrain. Slidell angler Justin Dugas made a trip to the Twin Spans in Slidell and says once he found them, they were thick. "I launched at The Dock and rode over to the new Twin Spans. I Fished up and down the pilings until I hit a mess of black drum under the hump at the very center," He says. Justin was using shad and dead shrimp with a weight but getting the bait to the bottom was a problem. "I was catching smaller fish around 12" - 14" so I switched to a Carolina rig with a lot of weight to get under the small ones, and picked up my limit of 16"-18" fish," Dugas says.
Cane Bayou Bass
The bass bite on Bayou Cane is showing no sign of slowing down this month. Todd Oalman made a trip to the tiny bayou in Mandeville and says the bass started biting immediately. I started in the pirogue around 6:35 in the morning and fished from the launch to just past the bird nests. I caught thirty bass in no time and missed 8-10 at the boat," he says. Todd was using Blackenrage Marsh Craw's and Shu-Shu Slugs in the Victory Red color on a weedless 1/0 hook.