Slidell angler Nick Church is no stranger to fishing the freshwater tributaries all across the North Shore of Lake Pontchartrain. Bayou Liberty, The Pearl River, Bayou Bonfouca, The Tchefuncte River, and Salt Bayou are all favorites of his when fishing from a boat. But recently, Nick's been venturing into less pressured waters and he's been doing it without a boat. "There are all kinds of ponds in this area with hardly any pressure put on them because they go overlooked by the a lot of people who think there are no fish in them," he says. Nick recently made a trip to the a pond that thousands of commuters pass daily.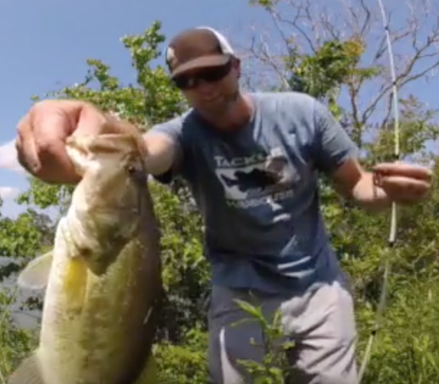 "I have always seen the ponds to the right off I-10 heading north between Old Spanish Trail and Fremeaux exit and I thought I would give it a shot," Church says. It was a hot day so Nick started thinking about where the bass might be. "On a boat, during these conditions, I'm looking for structure and shade. That seems to be where the bass tend to hang out during these times. I noticed a few openings that had some trees that hung over the water and also there was some rocky embankment that I could through to," Nick says. He was using a finesse trick worm that he had wacky rigged. "That is a must have bait for pond fishing! I threw it to the rocks and sure enough - first cast - he smacked the bait and it was on!" Nick says. Church hauled in a solid 1.5 lb. bass. Nick says he fished for about an hour and ended up with three nice sized bass from the pond and says, "I'm definitely hooked on pond fishing. I can't wait to get out there and find some more of these hidden gems."
Summertime Redfish
With the recent evacuation of speckled trout out of Lake Pontchartrain, Ponchatoula resident Bobby Miller turned his attention to redfish. Miller and his family launched out of Madisonville to find some redfish. With a tip from a friend, they ended up 1/4 mile west of the Causeway near the second crossover. Fortunately for the family, the winds were calm providing for a smooth ride.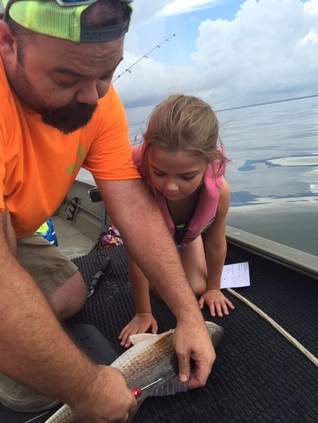 Miller says they started catching redfish immediately! "We were throwing Shrimp Creole and Green Hornet Matrix shad on a jig head and the action was fast a furious," Miller says. Redfish can often provide a challenge for adults, so Bobby and his wife Brandy, had their hands full helping their two children Bailey and Garret, fight the beasts on the other end of their lines. "I'm so proud of my entire family, Brandy put in the work to help the kids land some big ones," the proud father says. The family caught enough to eat and started releasing the rest of their catch. Miller participates in the fish tagging program put on by the Louisiana Department of Wildlife and fisheries and says he had the opportunity to teach his daughter Bailey, how to tag one of the redfish. "I'm trying to tech them respect for our fisheries so I showed Bailey how to tag one of the released fish," Bobby says.


Tickfaw Sac-a-lait
Maurapas resident Robert Gaulley loves to catch sac-a-lait. But with the recent summertime heating, Gaulley says the fishing has become tough. On his last trip to the Tickfaw River, Robert was able to catch a few but it was a challenge. "The water was low and there wasn't much tide movement. We had to work for every fish and even had to keep a few goggle-eye to make a nice mess," Robert says. At the end of the day, Gaulley ended up with 14 sac-a-lait and 10 goggle-eye using a black and chartreuse jig on a chartreuse 1/16 oz jighead. Robert adds, "It seemed that most of our bites came from the back of curves where the wind was pushing the water and creating a little oxygen."