When it comes to fishing here in South Louisiana, one fish is clearly king. Whether your chasing birds on the Lake, or jigging the bridge pylons, speckled trout is the one species of fish that will send even the most mild mannered fisherman, into a barrage of questions such as where, what bait, and how many? But the latter question isn't that important to Slidell speckled trout angler, Taylor Valois. Taylor fishes the Trestles every spring and fall when the action picks up on the bridge, and say's it's not about how many trout he catches when he fishes the train tracks, it's the quality of the fish. "Your fall bite is not about getting limits. A lot of people will look at it like - 'if you're not catching a limit, well then you're not catching.' To me, it's more about catching quality fish this time of year at the Trestles. If I can go out and put ten fish in the box that are over 18", I would rather do that than catch a bunch of smaller 12" fish," Valois says. Taylor says the reason for the bigger fish showing up on the bridges in Lake Pontchartrain is simple. "It's the structure. They can ambush prey around that structure. The bigger the fish are, the smarter they are. I like to think of it like hunting. You don't see those big bucks walking around in the open," Taylor says.


Causeway Trout

With the colder weather finally arriving here on the North Shore, the speckled trout bite at the Causeway Bridge has only gotten better for Lawrence Lemoine of Ponchatoula. Lawrence and his son have been fishing the bridge the whole month and says he is seeing the biggest fish of the season right now on the 24-mile reef. "These are really, really big fish we're catching right now," Lawrence says. On his last trip to the bridge, Lawrence and his son was hoping to duplicate a previous trip where they caught a nice box of trout.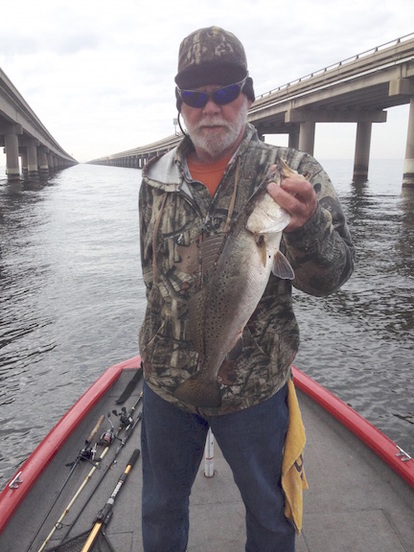 "Me and my oldest son ventured out to the Causeway at first light to see if the big trout were still there. A couple of casts into the trip and the answer was a football shaped 4 lb. trout. Man was he fat," Lemoine says. Like most fishing trips on Lake Pontchartrain. The wind can affect every aspect of the trip. Lawrence says the wind did get in the way but perseverance paid off in the end. "The wind was a pain but the bites were there and most of them were pretty aggressive," he says. The Ponchatoula angler says that the fish came in spurts. "When we did get a bite, we bombarded the pilings, jigging every possible direction and often were rewarded with multiple fish," he says. When the team called it a day, they ended up with thirty 2 lb. - 3 lb. speckled trout, 2 redfish, and 2 flounder.