The recent heat we've been experiencing is having it's annual effect on the fishing for anglers here on the North Shore. Reports are popping up further and further east of the Trestles in Slidell and anglers are making the necessary adjustments in order to fill their boxes with fish. John Mayeaux lives in Oak Harbor and was forced to make an early start in order to beat the heat. He brought along his wife Vicki, but says she had her reservations about getting up early.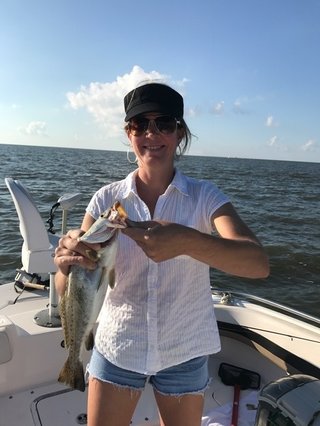 "It took some convincing to get her up at 4:00 am, but I did it and we left my dock at 4:45 and made it to Rigolets Marina before 5:30 to pick up some live shrimp and gas up the boat," John says. They made their way out of the Chef and enjoyed a beautiful sunrise over Lake Borgne before stopping at their first rig. John says he thought he'd be the first one there but he was wrong. We stopped at the first rig we saw and realized we were already late to the party with several boats there - so we found a spot and started chunking," Mayeaux says. John the team used their live shrimp on a drop-shot rig and Johns says the bites they felt were light. "We were getting lots of bites but they were very finicky. You'd feel the tap, then set the hook and there was nothing there. We had to work the bite and maybe after 5 taps they would take it enough that we could set the hook," he says. The frustrated angler wondered what was responsible for the missed hook-sets. "At first I thought it was small croakers playing with bait. Then I caught 27" red that hit multiple times before I boated it," he adds. The husband and wife jumped from rig to rig picking up fish slowly and ended the day with 1 redfish, 4 speckled trout that ranged from 15"-17", 5 sheepshead, and a few throwback croakers.
Algae Bloom
In addition to the recent freshwater dumped into Lake Pontchartrain from all the rains, Patches of green algae blooms that stretch from Manchac to Lake Bornge are being spotted in the estuary. The MODIS Satellite operated by NASA shows an obvious line of the green water that spans the middle of the lake running on a northeast course. The upcoming tropical depression should is expected to provide a much needed "flush" of the lake and provide the much needed higher salinities in the upcoming weeks.