They say necessity is the mother of all invention and perhaps no one can attest to this more than Mandeville resident Chip Moore. Chip has been boat-less for the past 4 years after selling his flatboat upon entering college. After college Moore started commuting across the Causeway and says it didn't take him long to know that he had to figure out a way to fish the bridge. "I would drive home every afternoon from work across the bridge and see everybody else fishing so basically I got tired of watching other people fish!" Chip said. Not long after that he figured out that he could fish from his 3 seater, GT SeaDoo Jet ski he received as a wedding present. One day after work he grabbed a pole, launched at the Mandeville Marina, and cruised out to the bridge. "I caught three of four specks that trip. Nothing big – it was just an afternoon trip," He said.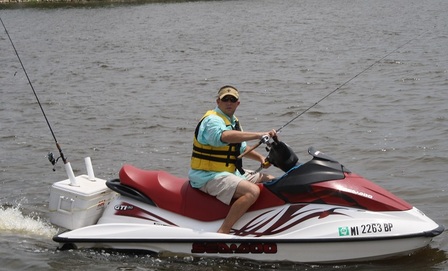 After a little practice Chip now maneuvers the pylons like its second nature and says there are some things that you have to get used to when fishing from a jet ski. "Obviously it's easier to jig from a boat just from the sheer angle of the line but you get used to it. As long as you keep your line tight and keep your eyes on the line everything works out. One of the biggest obstacles I have to overcome is position. I don't have a trolling motor so basically I have to position the Jet Ski and drift," Moore said. His efforts haven't gone unnoticed. He recalls a trip in which he started hearing clapping coming from the other boats. "Last year I was fishing the bridge and it started getting really rough out there. There were about three or four boats fishing around me and all of a sudden I hear applause come from the surrounding boats. So I'm sitting out in the middle of the lake on a jet ski receiving applause from total strangers," he said. Chip says this year hasn't been a good year for speckled trout at the bridge because of the high large numbers of undersized trout. "I've been catching a lot of small specks this year – really small fish - like six or seven inches! The water was beautiful on my last trip – clean water and good movement. All I could manage was a bunch of small trout," Moore said. For now, Chip says the SeaDoo will have to do but he plans on getting a boat so that he can fish with his wife and daughter.



Frog Days of Summer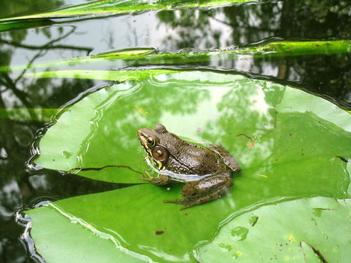 Fishing in Late July can be downright miserable for most anglers. You know the kind of days I'm talking about! Sweat dripping from your forehead even before the sun peaks over the horizon, hot! Ronald Pierre of Denham Springs says these are just the type of days you need to hit the water when you're targeting bass with artificial frogs. Ronald has been destroying the bass on the Tangipahoa River and says the best time to target bass with frogs is dawn and dusk. "I like to concentrate my efforts early and late in the day to beat the heat. Not only are these times cooler for fishing but bass tend to be more active and feeding during these times," Pierre says. Ronald recommends concentrating on structure when frog fishing. "I like to skip the frogs back under overhangs, run outs, or any isolated cover that sits near deeper water. Bass use these types of cover as ambush points to feed and will not hesitate to inhale a frog when it is presented in front of them," he says. Most frog fishermen make the mistake of setting the hook too early only to see the frog fly past them. Ronald says there is a trick to use when this happens. "A lot of times a bass will hit and miss a hollow bodied frog and won't give it another look the second time around. This is when a Senko comes in handy. As soon as the bass misses the lure, quickly reel in the frog and pitch the Senko to the same area then dead stick the lure. Most of the time the bass will see the soft plastic lure falling and will think it's the wounded prey it was just after and they will come back to eat it," he says.