There's an old saying, "When life hands you lemons, make lemonade. Tony Cyprus Jr. of Mandeville says "When Lake Pontchartrain hands you chocolate milk, catch redfish!" With the opening of the Bonnet Carre' Spillway, catching speckled trout in Lake Pontchartrain has become more of a challenge than convincing my 10 year-old that Mardi Gras was cancelled this year. But Tony Cyprus Jr made a trip out of Bayou Cane and says "The water looked every bit like the muddy Mississippi." Tony's made his way out to Goose Point without any results but it was on his way back that his luck changed. "As I made my way slowly and methodically back towards Cane, basically fishing the shelf between Goose Point and Cane, a beast of a redfish inhaled my lure!" he says. After a few minutes of fighting the monster, Tony's line broke. "I could tell the red was turning his head to snap line with the razors on both sides of his big ole bowling-ball sized head," Tony says. After re-rigging, Tony worked his way back to Bayou Cane and hooked up with another redfish. "I carefully fought the beast, hoisted him into net, and dropped him in box. He darn-near opened the box with his strength," Tony says. The fish weighed in at 13 lbs. and 30".


Jeff Kreller is another avid speckled trout angler that refuses to hang his head because of recent water conditions. "Nobody wants to fish the Lake because of the spillway! You want to cry about how the water looks? Call your momma and she'll listen, cause I ain't gonna," Kreller says. Jeff fishes out of a kayak and launched at the old Tite's launch at the foot of the Hwy 11 Bridge and says he saw a lot of birds around catching baitfish but couldn't find any trout. "I couldn't buy a trout! Not even from a commercial line runner (troller) I spoke to out there, but I did find reds! Strong, big, & fat reds that had my drag screaming and my yak ramming into the pilings! Fun stuff for sure," Jeff says. Reports of drum being caught have been more plentiful as of late but Jeff says he didn't catch any drum. "I didn't run into any drum, but line runner said they've been doing decent with them. I would suspect that if one were to pull a Rat-L-Trap or hug the pilings with some really stinky bait, they'd find even more heavy pullers than I did," he says. Jeff reminds the saltwater anglers, "The Lady's (Lake Pontchartrain) a little tougher right now, but there's things to be found if you try!"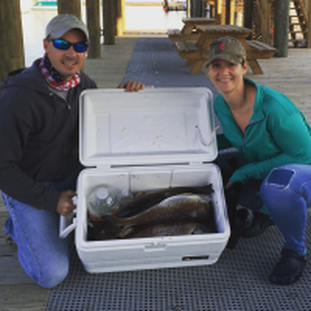 With January being traditionally the coldest month of the year, anglers should be advised to head south for results, and that's just what Dracos Morvant of Mandeville did on his latest fishing trip. Dracos and his girlfriend Amy, launched in Lake Catherine and headed to some well known cuts in the ICW where they caught a few bass bass on Vortex Shad in the Purple Haze color. The fishing was slow so the team made a change. "We made the run over to the Chef and worked the rocks around the mouth on the Lake Borgne side. We cruised along the shoreline looking for bait fish and once we found some we found the reds as well. 5 reds hit the box in very short time on the Lemonhead Matrix. My girlfriend was using the purple haze, but was not getting any hits. I switched her over to the lemon head and 4 more hit the box in about 6 or 8 casts," Dracos says. Morvant wanted to end the day with a limit so they fished until they had ten. "Number ten finally hit the box about an hour later near Alligator Point," he says. The Mandeville angler says all of the fish they caught were on the bottom. "We tried fishing a cork while the action was good, but they wanted nothing to do with it," Dracos says.
Derelict Crab Trap Rodeo
The Louisiana Department of Wildlife and Fisheries is asking for volunteers to participate in a large scale operation to remove derelict crab traps from locations around the lake and local marsh. Volunteers will be needed to work the disposal sites and to collect the traps so if you don't have a boat, you can still help. If you have a boat and want to help collect abandoned traps, a boat can be launched on site or elsewhere, but traps will need to be brought to one of the 3 sites. Volunteers should dress in preparation for water and mud. For more information please contact Patrick Smith at
patrick@saveourlake.org
.