With the new year upon us, Lake Pontchartrain has gone into it's so called "dormant stage" as far as fishing goes. Although we've seen an extended fall in 2015, Old Man Winter, assisted by one of the wettest Decembers to date, has turned the lake into one of the toughest places to fish on the Northshore.

For Slidell angler Buddy Hereford, to stop fishing in January is not can option. Buddy says there are two options that he turns to when the raw weather hits. The Biloxi Marsh and The Great Wall on the Intracoastal Wateway. On a recent trip, Buddy says the wind was just a little too much to deal with on Lake Borgne so he decided to make a trip to the wall.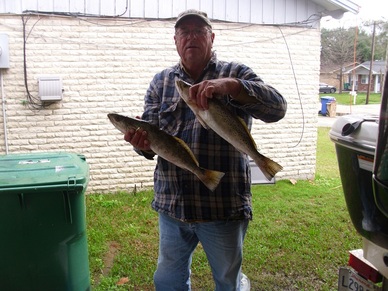 "I wasn't looking for an adventure, just a nice relaxing fishing trip. Crossing Lake Borne didn't seem like a good idea with the 15-20 mile per hour winds, so after a few discussions with myself, I finally settled on the Wall," Hereford says. Buddy launched at South Shore Bait & Marina on Chef Menteur and started fishing some cuts on the ICW. "After a short ride to a few drains in the ICW, I was casting for 9:30 and started catching right away, but all were 11" long at both the cuts I fished," Buddy says. Hereford decided to leave the drains and head on out to deeper water. "I Tried all my favorite areas and managed some nice specks all tight-lined using Lemonhead Matrix on a 3/8 oz. round white H&H head," Hereford says. After the wind picked up, Buddy decided to call it quits and head in. He ended the day with 14 speckled trout ranging from 13" to 20."



Pond Fishing

With the cooler weather here, it's no secret that the 10+ ponds from Sildell to Covington, that were dug out to create the Interstate 12 in 1957. John Givens of Folsom, says he can always tell when the large pond at the I12/190 intersection in Covington is producing. "Every winter around this time of year, I'll start to see trucks pulled on to the side of that pond. When I see that, I know it's time to catch some sac-au-lait," Givens says. John has made three trips in the lat two weeks and on every trip he has caught no less than 20 sac-au-lait. "These are really big slabs we've been catching. Usually I'll have to pick through a few smaller ones to find the keepers but this year they all seem to be huge," says Givens. A popular choice among crappie fishermen is live shiners but Givens says he has been having no problems at all catching them on jigs. "I started using shiners but found out quick that they'll just about hit anything right now. I've been using the traditional blue and white plastic skirts on a 1/18 oz. jig head," John says.


Stolen Tackle

Ponchatoula angler Richard Bennett is warning residents of Ponchatoula to be on the look out for tackle thieves in the area. Bennett had 22 Plano 3700 boxes of tackle, 4 Duckett rods and 4 Lew's Tournament Pro reels taken out of his boat that was parked outside of his house on Brown Road in Ponchatoula. Richard says, "Each box contained several colors of each style bait, completely stuffed. Please, if anyone has any idea of where this stuff is call 985-981-3599. I would pay very well to get it back even though it's a long shot," Bennett says.