Buddy Hereford wasn't planning on fishing, but after watching the news one morning he quickly decided he couldn't pass up an opportunity to take advantage of smooth waters at the Trestles. "I was watching the news and the weather looked as if it wasn't going to be as bad as once predicted," he says. After the weather report, there was breaking news. "There was a wreck on the Hwy 11 bridge and in the background I could see that the lake was dead calm," Hereford says. The grizzled veteran called his fishing partner, Alan Guenard, who met him at the Bayou Liberty Launch.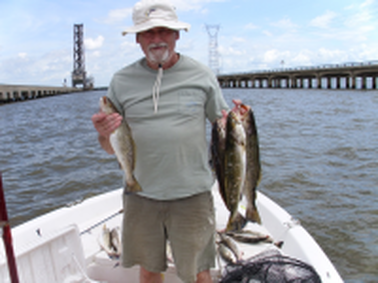 After a quick, smooth ride out to the bridge, they started fishing the 174 marker with no success, so they switched over to the east side to take advantage of the falling tide. "A couple of nice specks for both me and Allen and we figured the technique of the day was to cast to piling, find bottom, and retrieve it slowly all the way to the boat," Buddy says. The team used Tiger Bait Matrix on a 3/8 oz. jig head and says there were a lot of boats but it was relaxing because they were scattered throughout the bridge. Their final tally was 30 speckled trout, 1 drum, and 1 flounder. Buddy also notes that the unnoticed absence of the gaff-top catfish may be soon coming to an end, "I had one fish get away after a great fight before escaping! The line came up with a foot of slime on it - so we all know what that was!"
Lewisburg Lunker
Potty training a young child can often prove to be a challenging ordeal. Parents often resort to bribes in order to get their children to use the potty. Ice cream, candy, or trips to the playground, are amongst the most popular bribes in our playbook.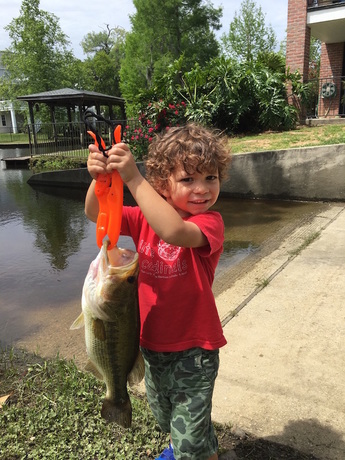 But Carlos Cabrera didn't play any of those cards. "All he wants to do is fish," Carlos says. So Carlos offered to take his 3-year old son, Nicholas, fishing if he used the potty. "He went! And off we went to get crickets for some perch fishing," the Dad says. Carlos took Nicholas to a nearby launch in their Lewisburg subdivision in Madisonville. Carlos says that there wasn't much of a bite so he tied on a Strike King Frog because he saw a few big bass on their beds. Nicholas began to work the frog over the fish. "A few swings of the rod and then a crash, and Nicholas was screaming 'I got one!' He always says that usually without a fish on the end. As I see him being pulled towards the water, I saw the fish boil - I know he has a Hog!" The proud d
ad says. Carlos noticed that his son was headed in the wrong direction so he had to step in. "He walked the fish in the wrong direction so I guided him towards the back of the dock that we were on. The big girl glided in with not a super fight so she must have just laid her eggs. Nicholas was ecstatic screaming 'That fish pulled hard!" Carlos says. He quickly revived the bass and let her swim off. Carlos says his biggest bass he had ever caught was a 5.5 lb. bass but it looks as if his 3-year old has already topped him with a 6 lb. bass.