The 2016 NorthshoreFishingReport.com Spring Fishing Seminar was held at T-Rivers Bar in Madisonville and among the guests were Mark Sagerholm who discussed how he targets sheepshead along the Trestles in Slidell. "The Trestles seem to be the best spot to target sheepshead. I've caught them small and I've caught them real big, all the way up to 30" which is about 10 lbs," Mark said. The Kayak fisherman out of Mandeville says that he ties up along the concrete poles and fishes strait down along the barnacle lined pylons. "I'll lower the line straight down to the bottom and I'll slowly bounce it up and down. I'm tight-lining it the whole time and I can feel every little nibble," he said. Sagerholm uses a special rig which consists of 30 lb. monofilament line tied into an overhand knot loop. One end runs down 2' down to a bank sinker and the other end runs 1' down to a #1 circle hook. Mark's preferred rod is a bait casting rod. "I prefer to use a bait casting rod to so I can free up my other hand for a beer," he joked. As far as bait goes, Mark says market bait works the best. "I like to bait it up with some market shrimp.They don't go after minnows. They rarely, if ever, go after artificial lures," he said.
A mistake that some anglers make is setting the hook to quick. With sheepshead, Mark says patience cannot be stressed enough. "I find it's best not to set the hook right away. I'll let them run with it a little bit because usually they'll run away from the piling and away from snag city. Once I feel that they've swallowed it, I'll go ahead and come tight on them and start reeling," he said.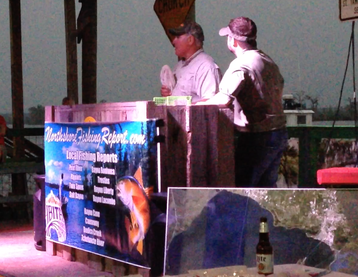 Cpt. Mike Gallo, who owns Angling Adventures of Louisiana, also spoke at the seminar and touched on a type of fish that fly under the radar for most anglers. Tripletail is a type of fish that hides under the debris that floats on the surface, and for some anglers who target them, they are at the top of the list as far as a delicacy. Mike says it's still to early for tripletail. "The earliest I've caught tripletail was in June, the year after Katrina and the water temperature was 74 degrees. The latest I've ever caught them was October and water was 74 degrees," Gallo said. Mike specifically targets these fish in Lake Borgne and says it's fairly easy to catch them. "Just run by the crab trap floats at 35 mph and you'll see them. They're used to shrimp boats flying by, you're not going to spook them," he said. The Lake Borgne veteran recommends using casting as close to the fish as possible with live bait on a weightless hook.
Sometimes Kids Know Best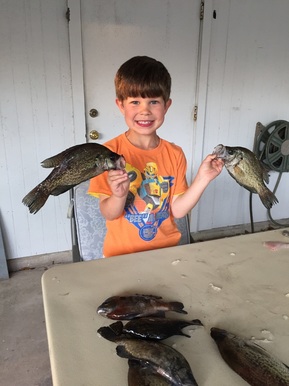 When Kevin Schilling woke up to start preparing his boat for a day on the water, he had every intention on fishing for bass. But after 45 minutes of casting without any results, his son decided that it was best to make a change. "My 5 year old gave it a try for the first 45 minutes of daylight, then he said he want to use crickets," Kevin says. Schilling knew it would take more patience to catch what they were looking for but 45 minutes to a child can seem like 2 hours, so he gave in. "I baited him up and he started casting. Ten seconds later he had fish #1. I re-baited and got one cast myself in and BAM! Fish #2!" Kevin says. It didn't take long before Kevin knew the plans for the day had changed. "Realizing quickly that this wasn't gonna work for me, I decided the day is his," he says. The team ended the day with 4 sac-a-lait and 10 bream. "Sometimes when the kid says something, maybe we don't always know what's best. God blessed us with a great day and a few meals to boot," Schilling says