After a long cold winter it looks like the proverbial "switch," has been flipped! Speckled trout anglers are seeing good numbers of trout in their boxes for the first time in a long time. Covington kayak fisherman Jeff Kreller recently made a trip after a friend texted him a picture of a trout he had just hauled into his kayak along the Lake Pontchartrain shoreline. "My buddy beat me to the water and sent me a picture of a beautiful pig he caught along the shoreline so I threw everything into the truck and got out there a little after 8:00 am," He says. It didn't take Jeff long before he had his first trout in the boat. "I got my first hit within five casts and then had my first hookup two casts later," Jeff says.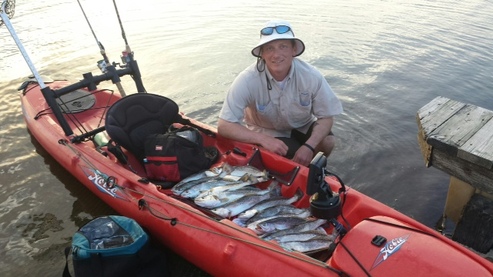 The tenacious kayak angler immediately picked up on a pattern as he noticed the fish where coming from the slicks. "There was a slight ripple on the surface. It was like little 4"-6" tiny confuse waves everywhere, but if you payed attention you can just barely notice small slicks. We were working those slicks and that's where we were having the most success," he says. Kreller says the catch frequency wasn't consistent but more in spurts. "We would get into them all of a sudden and it would be bam, bam, bam! We would put a few into the boat -then wait about 15-20 minutes and then bam, bam, bam! They'd be there again. That was pretty much the pattern for the whole morning," He says. Within three hours Jeff had his limit of specks and had released several tagged trout. Jeff participates in the Tag Louisiana program held by the Louisiana Department of Wildlife and Fisheries. In 2014 he had tagged and released over 100 speckled trout along the Northshore of Lake Pontchartrain and qualified for the Century Club – an achievement that is rare amongst kayak anglers. Jeff says he has learned a lot about the movement of speckled trout in the Lake from this program. "I love to learn about trout. To see how far my fish go and to see how far trout actually travel," he says. Kreller says he believes the bite will continue and the shoreline is a popular "highway" for these moving fish. "I think the trout are cruising the shorelines, checking things out, grabbing something to eat, and then they are moving on. I don't think they are in that stage where there are staying put along the same shoreline," he says.

Blood River Sac's
Northshore resident Bert Gauley saw the power of fishing first hand when his son and daughter made trip together in search of sac-au-lait and bass on the Blood River in Tickfaw. Bert says the brother and sister don't always see eye to eye so when his son wanted to go fishing, he came up with an idea. "I had some chores to do Sunday afternoon and my son was giving me that 'want to go fishing look'- so I asked him if he wanted to go. Of course he said yes, so I said 'okay, as long as you bring your sister'. He and his younger sister do not get along very well so I figured this would be perfect! They would have to work together to catch fish," Gauley said. The planned worked perfectly as Halli and Laiten teamed up to catch a mess of sac-au-lait and bass. "They actually caught some fish and had a good time despite the high water. I couldn't be any more proud of how they got along," Bert said. Gauley says his kids caught them on blue and black 1/16 oz. jigs that were rigged 18"-20" under a cork.