Every year Mother Nature seems to deal Northshore anglers a new hand. Whether it's the unseasonably late spring that had anglers chomping at the bit for water temperatures to rise, or the impossibly steady west winds that have been terrorizing or beloved Lake Pontchartrain this summer, one thing is for sure – catching fish isn't easy these days!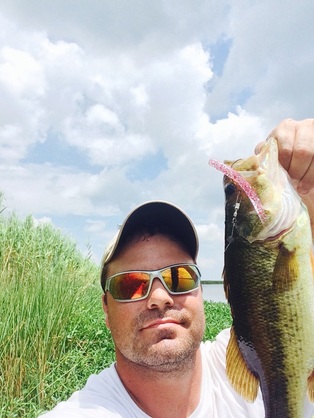 Cannon Merchantel has all but given up on the Lake and turned his attention to a spot on the Northshore that has been known to thrive in the brutal south Louisiana heat. The marsh laden Salt Bayou is starting to heat up and Cannon found out firsthand how productive the unsuspecting bayou can be. After launching his kayak at the Salt Bayou Bridge on Hwy 433, he knew he was in store for a good day. "I got out on the water early and at sunrise I started pitching Texas rigged Shu-Shu Shad mainly on openings between grass beds along the banks – within 30 minutes I has 5 bass, two of them being 16 inches! For the next half hour I fished the Shu-Shu wacky rigged into grass beds and along fallen trees and I landed two more. As the water temperature started to heat up, I switched to a chrome Rat-L-Trap to catch four more bass, two of them being 13 inches!" He said. One thing that Cannon has learned about Salt Bayou is to stay away from the mid-day heat. "Funny thing I've noticed about Salt Bayou during the summer is that she will produce a monster early morning bite, take a 9-hour break during the hottest hours, then start to pay dividends again during the evening bite," Cannon said. He adds that he thinks the fishing will get even better in early August. "I do believe that the best time for fishing is right around the corner for Salt Bayou," He said.


Bayou Lacombe Pylon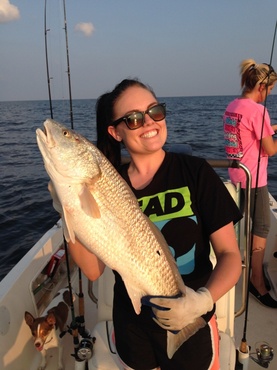 Mostly known for its fantastic speckled trout production in the spring and fall, the pylon off the mouth of Bayou Lacombe has been producing good numbers of redfish these days. Tom Kelley recently made a trip with his wife and daughter and was prepared for the worst. "My idea was to put my daughter (Kelsey Kelley) on some trash fish just for the fun of it so I stopped at Bayou Adventure in Lacombe to pick up some frozen shrimp. She doesn't care if it's edible or not - She just wanted to reel something into the boat so I was prepared for a hardhead extravaganza!" Tom said. He was pleasantly surprised however when on the first cast she landed a keeper redfish! "Things changed for the better when on the first cast she (Kelsey) hooked up on a good size red which we released after a few pics. Second cast ...same result a nice Redfish. This one went into the box. We had steady action for an hour. I never wet a line baiting hooks, fixing leaders, and netting fish for the ladies," Tom said. The day turned out to be a pleasant surprise as the team headed back with a box of fish. "We finished with 7 reds and 1 puppy drum. It was a fun, easy trip with a beautiful sunset on the ride home," he said.