As fisherman, we often get caught up in the new technology and devices that we think we need to catch more fish. As adults, we often know when to take advantage of obtaining these certain "toys" that we add to our arsenal to make us better anglers. Christmas is one of those times. I'm guilty of it and so are most of us. I don't care how old you are, it's hard to not take advantage of the simple question of, "What do you want for Christmas?" During the days leading up to the big day this past Christmas, I found myself strategizing my wish list with fishing rods, reels, and lures that would make me a better fisherman. Objects that I thought I needed to catch more fish. After all, that's what it's about right? Catching more fish? Catching bigger fish? Catching fish makes us happy and isn't that the secret to life? Being happy?
I'd like to share with you a story about grandfather who took a simpler approach to being happy this Christmas. Ralph McQueen lives with his his wife who he has been married to for 40 years. They live in Pearl River, Louisiana. Their daughter Marcee Pirie and her husband Frank Pirie have been living in a home in Livingston Parish until the flood in August destroyed the house and forced them to leave. Along with their 4 children, Marcee and Frank relocated to a camper where that the family of 6 have been calling home for the past 4 months. The new confines have taken a toll on their children, especially their two sons, Levy (7) and Luke (11). The two brothers fished in local ponds and canals near their previous home and with the relocation, haven't been doing much fishing lately. When school let out for Christmas vacation, Ralph decided to have the kids stay with him for a week. "When I picked them up I told my daughter that I was taking them saltwater fishing," Frank says. The two boys have only been freshwater fishing catching perch and bass and were very excited to hear that there grandfather was taking them on a boat to catch speckled trout and redfish. "Oh, they were real excited! I think they planned the whole trip before I even knew where I was taking them," Frank laughed. The veteran anger has been fishing Lake Borgne area for over 20 years and comprised a plan to take the boys to the Rigolets to try and catch a few trout and redfish. They traveled over the Rigolet's Bridge and launched near Fort Pike and as they were exiting the canal, Frank pointed out the old cannons at the historic fort. The boys were in awe and bombarded their grandfather with questions. "At first they thought I was making it but I explained that the history of it. I told them that the fort was built to protect the area from pirates," he said. It was about this time that Frank could sense that the furthest thing from their minds was their situation back at home. His thoughts became less about what lures they were going to use and what poles would give them the best opportunity to catch more fish. His mission was now about bringing forth more smiles and excitement that he saw emanating from the two youngsters. Frank opened the engine up on his Carolina Skiff and the boy's faces went from simple smiles to pure jubilation as the wind poured through their hair. "Their faces lit up! Have you ever seen someone smile with their mouth open? Those smiles were priceless," he says. Frank began to feel more of the happiness transpiring from the boys into him. As they reached their destination near the shoreline in the Rigolets channel, Frank baited their hooks with live shrimp and watched as Luke casted out. He then casted out Levy's line.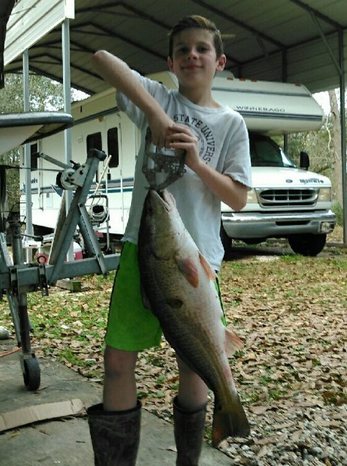 Within 15 minutes, Frank heard a commotion in the back of the boat and looked over his shoulder to see Luke hunched over the side of the boat hanging on to his rod as it bowed over. Frank knew that it was a redfish. "All he kept repeating was 'I got something! I got something!' He's always talking about how he's a man so I let him reel it in by himself," Frank joked. The fight lasted 15 minutes and as the fish neared, Frank told Levy to grab the net and prepare to scoop the fish when it came up. But when Levy spotted the bronze monster of a fish, he did something that Frank didn't expect, "When the fish came up that boy dropped the net and ran to the other end of the boat!" Frank laughed. The grandfather grabbed the net from the floor and scooped up Luke's fish. The boys stood in awe of the beast of the fish as Frank thrusted up a 36" redfish and placed laid it across the youngsters laps as they sat next to each other. Frank watched as the two brothers completely were removed from their reality. For the rest of the day the grandfather and his two grandsons never caught another fish. The trip would be labeled a failure by myself or any others who strive for better in this competitive world of fishing, but for Ralph McQueen, that one fish instilled more happiness in his heart than unwrapping any new fishing reel or depth-finder this Christmas. And it was all because he did something that most of have the opportunity and the duty to do more often than we do. He took a kid fishing. Please think back to when you were a child. How much happiness fishing brought to your life and the memories that you have of those special days. They didn't just happen. They weren't unwrapped. They're there because someone took the time to take you fishing.
​