In the competitive world of bass fishing, fishing with confidence can be as important as what lure you have tied on the end of your line. 15-year Gage Wagner fished the Bass Assassins's tournament on the Tchefuncte and says the confidence was there thanks to a tournament he fished with local tournament angler Jared Norris, in the spring. "The last Liars and Lunker's tournament I fished was with Jared. It was during the spawn and we missed some great fish that day so when I woke up in the morning for this tournament, I was excited! I was pumped! I knew we were gonna catch fish," says Gage. The Slidell High freshman grew more confident when he arrived at the Menetre Park launch in Covington, and saw that one of the best bass anglers to fish the Tchefuncte, was missing. "When we got out there and I didn't see Pittman, it really had me more confident about the day. When I didn't see Jason Pittman out there the only other ones I was worried about was Paul Paille, Patrick Engerran, and of course my cousin Cameron Wagner - but I knew what he would do because he taught me everything I know," Gage says.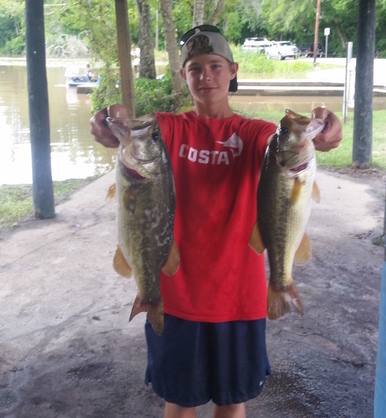 The Bass Assassins tournament put on by Chris Basey is a singles tournament which means two anglers can fish out of the same boat but still compete with each other. Gage says he was fortunate to be able to fish with a knowledgeable angler like Jared Norris "I got to climb into Jared's boat again this tournament and I'm so appreciative of that," he says. The day started out with a swing and a miss for the rookie tournament fisherman. "The first stop we made I missed a good one. I was still half asleep. I casted out there and he just sank it. I set the hook and he wasn't there," Wagner says. For the next 20 minutes Gage and Jared went without a bite and Gage grew frustrated, but says that all changed on the next stop. "We went to the next spot and I caught a 3-pounder and that brought me back up," he says. Gage and Jared continued to fish hard without much results so they doubled back and that's when Gage experienced a repeat performance along a deep bank with lily's. "When I set the hook on the next fish I really didn't think he was that big. I was going to just boat flip him and Jarred yelled at me not to. He ran into the back of the boat and grabbed him out of the water. After that fish came out of the water I knew I had a good fish," Gage says. The "good fish" that Gage had caught was a 5 lb. 6 oz. largemouth bass. After that, the youngster knew he had to finish out his limit. He continued to fish the deep bank and filled out the rest of the 5-fish stringer within 20 minutes but still didn't think he had enough. "15 minutes after catching my limit I was thought I had enough to finish in the money, but not enough to win," Gage says. The Slidell teen weighed in his fish and when it was all said and done, ended up with the winning stringer for the tournament, an 11 lb. 10 oz. bag. Gage won not only the tournament, but also won the big fish category with his lunker bass.
After the win Gage says he's totally hooked on tournament fishing. "I like the competitive part about it. Winning money is cool but being able to catch fish and compete against the best on the river is a feeling like no other," he says.