With the trout bite on the decline in Lake Pontchartrain, Slidell angler Taylor Valois has switched gears to fishing for redfish. However, Taylor has a different perspective when fishing for these bronze beauties, literally! Valois makes a simple adjustment in the trajectory at which he looks at water's surface and in return he is able to spot redfish with ease. Taylor says you can use anything to turn a fishing trip into a sight fishing trip. "Platforms are nice to have but you can stand on an ice chest, ladder, or homemade stand as long as it's stable," he says.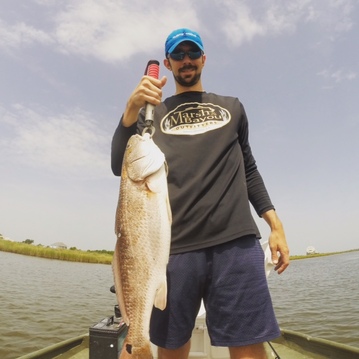 Valois has been targeting the local waters and having great success with redfish with the warming temperatures. "Fishing the Northshore area you have multiple options for sight fishing. Most common are the Chef Menteur, ICW, Car Drive, Rigolets, and even ponds off of the East Pearl are great places to wet your line. The key is just to scout each area and move around," Taylor says. Not only does he elevate his view while fishing, Taylor uses his computer at home to elevate before he heads out on the water. "Before I venture into the marsh, I'll map out spots on Google Earth that are deep in the marsh off of canals that are dark blue. When you see a pond with that dark blue tint that means you are seeing the bottom of the pond and those are excellent areas to try," he says.



Bayou DeZaire Bass

They say the road less travelled is less travelled for a reason. For fishermen, the opposite is often the case. Todd Oalman decided to make a bass fishing trip on Bayou DeZaire, an often overlooked bayou that runs under Hwy 21 in Madisonville. Todd drove his truck and trailered flatboat into the Starvation Landing parking lot, but before he could back down he saw action on the surface of the water. "At the launch, there were shad being pummeled by 12-13" bass," Oalman says. Todd grabbed his rod and reel and casted in the middle of the action. "I caught four before launching the boat," he says. After the school moved on Todd launched his boat and made his way to the mouth of the bayou where if spills into the Tchefuncte. Again he found another school busting the surface and caught three more keepers from that bunch. On his way back to the launch Todd says he picked up a few more along the bank to give him his limit. Todd was using an 8 lb. ultra-light setup until a 4 lb. bass broke his line just before reaching the launch and says "Victory Red Shu Shu's fished weedless did most of the damage with a couple falling for a silver crankbait.

Gar Balls Anyone?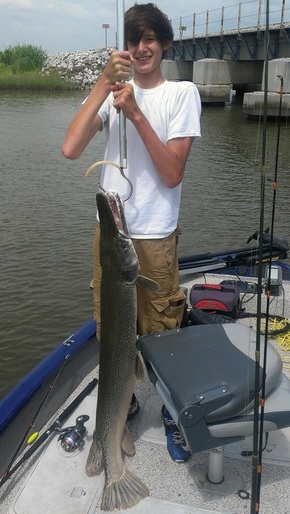 15 year old Blaise Polito of Ponchatoula recently made a fishing trip with his father Charlie Polito. The team headed to Unknown Pass for some trout and redfish action but wasn't having any luck. That's when they heard a loud splash at the side of the boat. "I thought a fat kid was doing a cannon ball off the bridge at us," Charlie says. All of a sudden Blaise jumped into action. "That's all that my son needed to see - out came the big rod," he says. Blaise found the biggest hook he could find in his tackle box and baited it with an old fish carcass in the ice chest. After about 10 minutes of watching his line go out, Blaise decided to set the hook. "When garfish take the bait, you have to wait for them to swallow. You can tell when they swallow it because they will swim around with it, stop for a while, and then dart off," Blaise says. The Ponchatoula High Junior finally got the gar in the boat and upon returning home, had the gar cleaned within an hour. "I'm probably the only person in the world that can clean a gar easily," Blaise says. Charlie says his favorite way to prepare garfish is to make gar balls out of them which involves mixing the meat with potatoes and sculpting them into round balls, then frying them.