For those anglers who wait until October to target flounder along the Trestles, you don't have to wait. Those Lake Pontchartrain doormats that normally start appearing in angler's ice chests in October have been showing up with more frequency this spring. Anglers have reported a better than normal catch rate of flounder in Lake Pontchartrain over the winter months and it looks like the bite will continue right through the spring. Joey Brumfield travels from Baton Rouge to fish the Trestles every spring and says he was surprised to end up with as many doormats as he did on his last trip. "I didn't expect to catch that many and we certainly weren't targeting them that day," He said. Brumfield launched out of Dockside Marina around 2:30 in the afternoon and headed to the drawbridge on the Trestles. He says that the fishing was slow at first but when he reached a certain spot, the fish were flying over the sides of the boat. "We fished for about an hour moving towards the south shore but only caught one nice flounder. It was pretty slow with a weird bite until about 4:00 pm. when we reached mile markers 174 and 175. After that it was on!" Joey said. Flounder are often caught here and there by anglers targeting speckled trout, but on this trip Brumfield says the fish were concentrated. "The fish were definitely thick in the area because after you popped the bait a few times and let settle toward the bottom, the flounder would just grab it. You would feel like you were dragging the bottom but if you set the hook quickly about every 3rd or 4th time- it would be a solid hookup on a nice flounder," He said. Joey said he noticed better results after switching over from the Magneto Matrix Shad to the Lemonhead color. Anglers have been catching flounder for the last two weeks in this same spot and the action should only get better as the temperatures warm the waters.


Bass Grass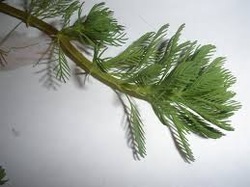 Bass fishermen are reporting more vegetation than usual in their favorite fishing holes. One theory being brought forward likens this winter's below normal temperatures to the marsh fires we routinely see throughout southeast Louisiana. The reason for marsh fires are to clear out some of the dead growth and let new growth come forth. This winter's cold temperatures should have surely cleared out any old vegetation for new growth, right?
"That's somewhat correct" say's LSU AgCenter researcher, Professor Dearl Sanders. "Cold winter weather tends to favor some aquatic plants over others. The true tropical or semi-tropical plants like water hyacinth really got hammered this season, while the native plants like water pennywort thrived. Water pennywort is not affected by cold temperatures and grows well throughout the Midwest. Normally, competition from other plants like water hyacinth tends to keep it in check. When the competition is removed, these cold water plants take over.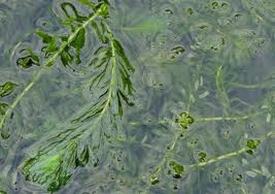 The plants that are killed by the cold weather release tons of nutrients back into the system as they decay in the late winter and spring. The plants that were not affected take advantage of the extra nitrogen and other nutrients that are left behind," said Sanders. Other cold water plants that are seeing better growth this year is Milfoil and Hydrilla. Both are able to tolerate temperatures into the thirties and have been known to even thrive in the colder water temperatures.