Instead of letting the rainy conditions deter him, Slidell speckled trout angler Buddy Hereford decided to take advantage of the vacant crowds at the Trestles. "The weatherman did a good job of crowd control today. There were only a few boats out there this morning," Hereford says. Buddy launched at Bayou Liberty and made his way to the 174 mile marker on the bridge.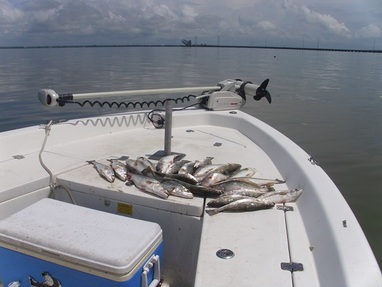 For the past few weeks this spot has been inundated with boats, but with the rainy conditions, Buddy says there weren't any boats there. Unfortunately, there weren't any fish either. "I started on the east side of the bridge without any luck so I moved to the west side and started picking through 11" specks," he says. Buddy was jigging Matrix Shad in the Pink Champagne color when he decided to make a change. "A couple of years back I watched a troller picking up fish every 5-10 pilings - while I was struggling to get any. He was using dark bait first in line with a light colored bait behind. I decided to mimic his rig using a chartreuse beetle followed by a clear sparkle beetle and started catching doubles," Buddy said. After that, it didn't take long for Hereford to finish catching his limit and by 12:30 pm. Buddy hauled in speckled trout #24 and #25!


Heart-pounding action on Bonfouca

Sometimes we need to be reminded of just how good we really have it here in Sportsman's Paradise. Mandeville Resident Randy Johnson is new to Louisiana and is starting to learn the rivers and bayous that meander across the North Shore of Lake Pontchartrain. "I went and explored Bayou Bonfouca and I had to just shake my head at the different amount of features these rivers on the north shore have," Johnson said. Randy launched at Heritage Park in Slidell and fished the area before the bridge without much success. He decided to make a run out to the lake. "I ran all the way to the lake and fished a little cut to the right by the mouth. I was making casts and into the mouth and working the Shu-Shu when this big wake came off of a stick near the mouth and slammed it! I have to tell you I honestly I didn't know what the fish was because while I was in bass mode, the surroundings looked as if I should be fishing with saltwater lures," Randy said. What Johnson had was a redfish and he hauled it into the boat before it couldn't straighten the worm hook that was tied to his line. After a few more casts with no results, Randy decided to head back up the bayou to try and find some bass. "I headed back upriver and saw some houses to the left where I was going to try and enter but I saw what looked like baitfish scattering at the mouth of the entrance," he said. The anxious angler threw down his trolling motor and approached the scene. "First cast I skipped a Shu-Shu across the surface and heard a quick pop, like a suction blowup. My heart started beating and I slowed down the bait in anticipation of another blowup. Bam! he got! I reared back and hauled in a nice little school bass," Randy said. By now Johnson, said he was shaking because he knew there more fish to be caught. "So now my blood is pumping! I knew there were more there. I casted to the action and caught another one," he said. Being new to the area Randy says he had to check the LDWF website from his phone in order to see what the daily limit was. He learned that he had his limit and after a few more catch-and-release bass, he made his way back to the launch. Johnson says he's slowly learning the area and one thing he has learned on Bayou Bonfouca is that baitfish means bass! "Those bass were destroying that shad right in the open water," he said.