It's true that timing is everything when fishing on the North Shore of Lake Pontchartrain. Typically, the speckled trout bite slows as we head into the month of January. Stephen Hoffman of Mandeville fishes the Trestles and recently made a trip with a friend in which he knew catching specked trout might be dicey given the time of month.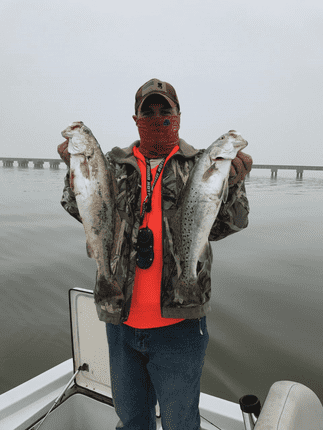 "I didn't think it would go well," Stephen says. But when the friends made it out to the train bridge they were pleasantly surprised when the first fish hit the box. We caught 3 or 4 nice ones and the rest were about 14-16 inch fatties," Hoffman says. All of the fish were caught on plastics but Stephen says that there was one thing in common with all of the plastics that they used. "Everything we caught was caught on lures with chartreuse on it. That seemed to be the color," he says. The team ended up with 20 trout and more importantly, an enjoyable day at the bridge.

​Lucky Lighter
Adrienne Adams and her husband have been fishing the Oak Harbor area a lot lately.
"We just recently got into fishing, and we've been coming home with enough for dinner and a little extra," Adrienne says. On there latest trip the couple stopped at a gas station for some energy drinks and Adreinne spotted something.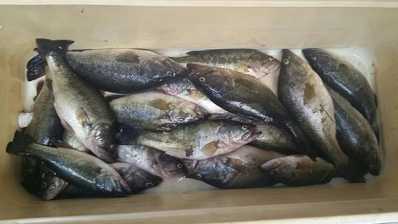 "I saw a lighter with a big mouth bass on it so I told my husband I was getting it because it was going to bring us luck! He looked at me like I was crazy, but then said okay," she admits. When they arrived at there bank fishing spot they threw out live shrimp on there lines but the action was slow. I threw the first cast at 8:30 a.m. and It was a very slow start as we only caught 2 bass in the first hour and a half," the dejected angler says. Then her husband reeled in a 22" sheepshead and after that, Adrienne says "The bass finally came alive. Once they started biting - it didn't stop! They were still biting when we finally called it quits around 3 p.m. We caught about 6 throwback bass and came home with the big sheepshead and 18 bass." Adrienne credits the lighter for the trip. "This is the best luck we've had since we started fishing," She jokes.
Causeway Still Unproductive
O'Neal Carriere depends on the Causeway as someplace close to home where he can fish for speckled trout. He made a trolling trip to the 24-mile reef to to check and see if the trout may have suddenly appeared at the tried and true fall fishing location but say his results were the same as on previous trips. "Zip, zilch, nada! I Don't know what's going on out there. I marked a few fish but the water was a bit uncooperative in terms of chop. I wish could catch something closer to Mandeville, but it just doesn't seem to be happening right now," Carriere says.