The phenomenal speckled trout bite at the Trestles that anglers have experienced last month seems to be over with the long lasting cold fronts that we have seen in late January and early February. Jeff Web of Mandeville made a trip to the iconic train bridge and says the water was cold and dirty. From the start of the trip, Jeff says his optimism started to diminish. We launched around 12:30 p.m. at The Dock. We met a nice couple pulling in and they had two specks from their morning trip. As we were heading out we passed a couple of guys heading in with nothing," Jeff says. The family started trolling along the east side of the bridge. "It wasn't a bad run to the bridge, but the west wind made it almost impossible to fish from the west side of the trestles. We mostly trolled chrome, green and blue rattletraps from 1:00 - 3:00. without a bite," he says. So they picked up and headed to a more protected area in search of cleaner water. "The kids were getting impatient and the west wind was getting fierce, so we headed back in to try trolling the canals in eden isles. We saw lots of fish on the fish finder but still couldn't entice a bite, Web says. At the launch Jeff talked to another boat with the same results. "At the launch we met another guy that also struck out. Grand tally, I spoke to five boats, 4 fish. No one had better than 2 fish. You may want to consider different options until that west wind lies down," he adds.
Bayou Bonfouca
Daniel Sissac and his father Roger fish bayou bonfouca year round. The bayou has so many things to offer such as bass, perch, trout, redfish, and sac-au-lait. But on their most recent trip to the bayou they were reminded that Bonfouca can produce catfish as well. The two started on the northern end of the bayou and found fast action using crickets under a cork. They then switched over to soft plastics and found the bass hitting along the warmer shoreline where the sun was shining. "We were fishing the inside of the grass line with Shu-Shu's," Daniel says. The father and son du ended the day with 75 perch, 7 catfish, and 4 bass.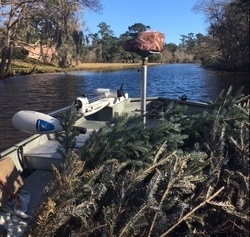 Bayou Liberty
The sac-au-lait bite on bayou liberty is heating up quick. Chris Parrett of Slidell launched his flatboat at a friends house on the bayou and concentrated on certain areas of the bayou lined with wood. "I started throwing some bright colored tube jigs in the shaded areas. Electric Chicken and Matrix Mini's got me 7 really nice slabs," Chris says. Parrett says he also put down some structure for future sac-a-liat trips. I also threw out 2 Christmas trees to target on my next trip," he adds.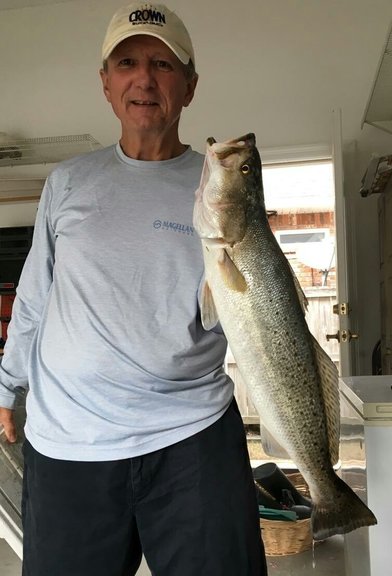 Personal Best
Sam Coco has been fishing the canals that meander through the Oak Harbor Subdivision in Slidell for years. He's caught numerous spaces of fish while fishing from land including hundreds of speckled trout. But on his latest trip he caught his biggest trout he has ever caught. "I walked down to my favorite fishing hole in Oak Harbor and started throwing a sinking Mirr-o-Lure. About the fourth cast - as soon as the lure hit the water - fish on!" Sam says. The fish fought for about 8 seconds then Sam lost it. Sam says he thought it was a garfish but he casted back out to the same spot anyway. "I casted back to the spot where I lost it and BAM! Fish on again! But this time it was for good! I still wasn't sure what it was because it was pulling drag on Black Max Bait-caster. I got it to the shore and looked at it. I was shaking looking at this fish laying in the grass at my feet," the frazzled angler says. Lying at his feet was a 24" speckled trout that weighed 4 lbs. 3 oz. "That was the biggest trout I had ever caught," says Sam.
​