As November and early December rolls around, cool fronts become a regular pattern here in South Louisiana. Last month was quite hot for October, yet still a good fishing month. The fish are finally out of their summer doldrums, and ready to gorge themselves with food before the very cold winter months approach. Pond fishing becomes very easy this time of year. I believe the best times to go pond fishing would be the day before a cold front, and two days after a cold front. Almost any bait you can think of is productive this month. I like to break the baits down by category, such as topwater, suspended baits, mid-water baits, and bottom baits.
My favorite topwater baits to use during the fall and early winter are The Heddon Spook Jr, Gambler Cane Toad, and Spro Bronzeye Frog. I find that with the Spook, Shad or Bluegill, color patterns work best. If I see Shad popping, I fish the Spook in the middle of the pond. The other way I enjoy fishing is casting parallel with the grass line. I like the Spook Jr because a lot of fish in ponds tend to be small and you want a better hookup ratio. Probably, my favorite fall topwater bait is the Cane Toad. For the Cane Toad, I like to use green pumpkin or watermelon based colors. I fish this bait through grass and along grass edges. There's not much technique to this bait, just throw it out and reel it in on top of the water. The last bait on my topwater list is the Spro Bronzeye Frog, I strictly fish this bait through duck weed, hydrilla, and grass mats.. The Spro Bronzeye Frog works best in a white or brownish color.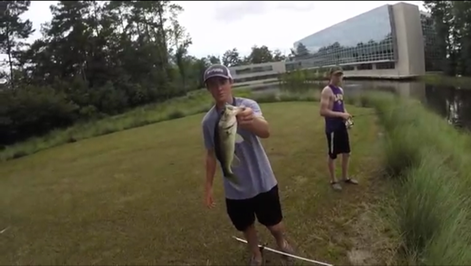 Secondly, let's talk about suspending baits which can be very effective this time of year. I like to fish three main suspending baits, namely: the Jerk bait, the Shu-Shu, and the Fluke (soft jerk bait). My favorite Jerk bait is the Rapala X-Rap. This bait dives 5' to 1ft and a half. If the weather is warm, I rip this bait very fast with very few pauses and when the weather is cold, I work it slower with more pauses. This bait is excellent- fished in schools of bait fish, and being ripped through grass or hydrilla. The Jerk bait excels in shad, craw, or bluegill patterns. The next bait on the list is the Shu-Shu. I like this bait because it's different than anything else on the market. It is very similar to a Fluke, but you can do much more with this bait. The Shu-Shu Slug can be fished Wacky, Texas Rigged, Weightless, Jiffy Rigged and on a Drop Shot. My two favorite ways to rig this bait during the fall are wacky and weightless. I fish both of these techniques right below the surface of the water. This soft plastic perfectly imitates a wounded shad or baitfish. Good areas to fish the Shu-Shu are as followed: grass edges, points, and wood structure. In my opinion, the best colors for the Shu-Shu are Victory Red and Junebug. The third bait on my fall suspending baits list is the Zoom Fluke. I fish this bait the least, but it can be very effective at times. I tend to fish this bait through balls of bait and through submerged vegetation. My favorite colors to fish this bait is white and brown. This is to represent the forage which is Shad and Bluegill.
​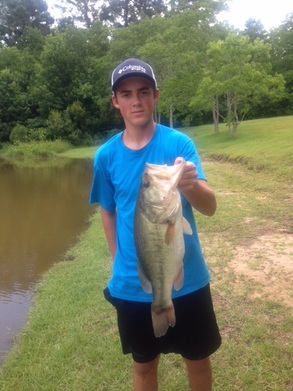 Thirdly, in the fall, I like to use mid-water baits. The main two baits I throw in this category are crankbaits and lipless crankbaits. I throw the crankbaits around cover, such as rocks and timber. Letting the crankbait bounce off of a structure is the key to success. Most of the time while fishing a crankbait, you are getting a reaction strike from the bass. My favorite type of crankbait to fish is a squarebill. The reason is because they deflect off cover with ease and dive at shallow depths. It is crucial when fishing ponds to have a shallow diving crank bait because most ponds are not very deep. The second bait on my mid-water list is a lipless crankbait or better known to others, the rattletrap. You can fish this bait in many different ways: ripping it, yo-yo'ing, and steady retrieval. I find that steady retrieval with an occasional rip tends to work best. Both of these baits are most effective when bringing them through schools of baitfish. My preferred colors are Bluegill, Bone, and Sexy Shad.
Lastly, let's talk about the final section of baits in my fall arsenal. These baits being the beloved bottom baits. I fish two main baits in this category every year. The two bottom baits you will always find in my tackle box is a Finesse Jig and Zoom Ol' Monster Worms. My favorite part about Finesse Jigs is that they are one of the most versatile baits out there. You can swim them, flip them, punch them, and jig them. I do not have a favorite brand of Finesse Jigs; however, in my opinion, pretty much all of them work great! I do have specific colors I fish for this bait. In clean water, I like to fish green pumpkin or watermelon based colors. In dirty water, I prefer to use black & blue and red & black. My main goal for fishing jigs this time of year is to mimic a bluegill or crawfish. The Zoom Ol' Monster is a 10 1/2 inch Ribbon Tail Worm. I only fish this bait one way which is slow rolling it. For me, this bait produces all year long, but most definitely in the fall. This summer, I caught a 6 1/2 lb. bass on it. My favorite colors are green pumpkin and tequila sunrise.
Overall, the late fall, early winter is a special time in Louisiana to pond fish. The water begins to warm up and the fish begin to feed. The bass finally are ready to eat and get fat before the water temps get in the 40° range. This is the time of year that you will catch the most and biggest bass out of ponds on the Northshore. So get out there, use the techniques and baits that I presented to you and I promise, you will have a great time!
​