Introduction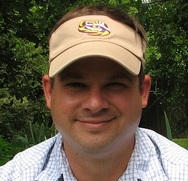 Keith Lusher Jr
In recent years there has been a noticeable void in the availability of information when it comes to fishing in St. Tammany Parish. Whether you're chasing speckled trout in Lake Pontchartrain or running trot lines in the Tchefuncte, I believe our residents deserve the best up to date information available. My name is Keith Lusher Jr and I publish a website here on the North Shore specifically geared towards fishing in St. Tammany Parish. I am so excited to be teaming up with The Slidell Independent and Tammany West publications to keep you informed on the latest tips, trends, and hot spots. In the upcoming weeks I will update you on the ever changing conditions that affect Lake Pontchartrain's tributaries, in order to help you to be more successful on the water.



---
Finally some stability on the Northshore!

After a long tumultuous spring, conditions are finally settling into a stable pattern here on the North Shore of Lake Pontchartrain. The "washbowl" effect resulting from the constant changing of winds from the north to south during the spring has finally come to an end and our old friend Mr. Southeast wind is back. Speckled trout are showing up in mass along the bridges and reefs. Bass anglers are finding exciting top water action on many North Shore Rivers and tributaries. Below are some hot spots that you need to try the next time you get out on the water!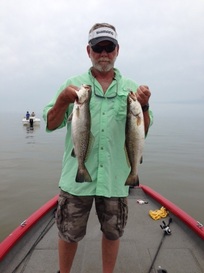 Lawrence Lemoine
Lemo's Reef
-
The artificial reef out of Madisonville is clearly this week's best bet when looking for box loads of speckled trout. Located approximately 2 miles off the mouth of the Tchefuncte River, this is one of the most intriguing fishing spots on the North Shore due to its size. Lemo's Reef is barely two acres and fishing space gets tight in good fishing conditions. Be sure to use common courtesy and expect to catch another angler's line a time or two. Moving water is important so make sure there is a considerable tide range when fishing the reef. There is no need for live shrimp as the bite has been stout on plastics alone. Use Matrix Shad Shrimp Creole on a 3/8 oz. jig head. Be sure to bring a net, you'll need it!
---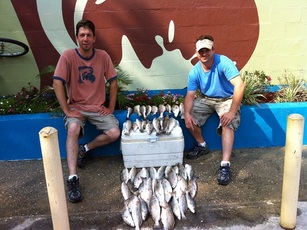 John Farley and Keith Lusher Jr
Hungerford Reef-

Located about 1 mile south of goose point a mile and a half out of the mouth of Bayou Lacombe, this reef has been producing some really nice sized speckled trout this month. The reef is nothing more than a small shell pad formed from spilled rocks from barges that use to tie up to the pylon. This structure holds bait fish which attracts game fish in return. Jig Matrix Shad Shrimp Creole on a 3/8 oz. head or Carolina rigged live shrimp on the bottom for best results.
---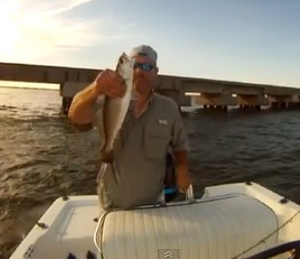 Jaimie Whitlow
Trestles- If you haven't fished the Hwy 11 Train Trestles lately you are missing out on some fantastic fishing. The water is finally clean and these fish are hungry! The trollers that inhabit the bridge during the spring have faded away and have been replaced with piling jiggers. Ideal conditions for fishing the Trestles are a southeast wind with an incoming tide. Fish the north end of the bridge using Carolina rigged live shrimp on a #6 treble hook. If you like more of a challenge and artificial bait is your thing, rig Matrix Shad on a 3/8 oz. jig head and work it on the bottom. One thing to remember when fishing the Trestles during this time of year is that things will vary from day to day. One day you may find the trout holding close to the pilings and the next may find them 20 to 30 yards off of the bridge.


---
Bass and Google Eye caught in Bayou Bonfouca





---

Bayou Bonfouca-

Shad have finished spawning and have begun their migration from the backs of creeks to the main bayou. Bass will set up during low light conditions to feed heavily on shad before moving out to deeper water. Anglers who get out on the water early can beat the heat and take advantage of the heart pounding top water action that Bonfouca has to offer.


Bayou Liberty- Bayou Liberty's bass action is hot right now! Throw weightless soft plastics in natural colors along the grassy banks. Look for transitions where two or three different types of grass come together. Fish these areas early morning and late afternoons to beat the heat. Also be on the lookout for schooling activity for a chance to quickly fill limits on top-waters.


Bedico Creek- Like always, bass fishing is good in Bedico but this past week we've been seeing an abundance of google-eye in the creek. This provides a good opportunity to take the kiddos out for a little perch-jerking. Fish cypress knees and overhanging trees with worms, grass shrimp, or crickets rigged under a small cork.
Keith Lusher Jr - Slidell Independent 5/30/13



This is an archived article! For the most recent article please pickup a copy of the Slidell Independent or Tammany West publications today!