Pond after pond, the story was the same leading up to the 2014 teal season opener: stellar habitat in our local marshes of southeast Louisiana but no teal. Sure some folks were reporting a band here or there while fishing but for those who really went looking for huntable numbers to ambush on opening day, it wasn't looking good. As a buddy and I scoured the marshes for birds the day before the opener, the outlook for the next morning was grim at best. Plenty of mottled ducks and a few wood ducks took to the air as we poked our heads into a variety of ducky habitats but the blue wings were MIA.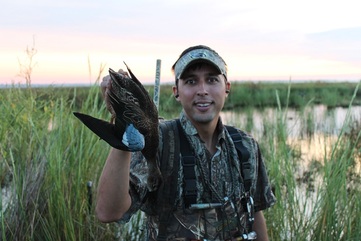 We ended up doing what many other duck fanatics did for the September 13th opener: set up in areas that had plenty of feed and ideally were holding mottled ducks while scouting. After all, when the teal do eventually show, they look for what other birds are already enjoying.

"Is that one!?" I questioned as a dark silhouette dipped and swung his way erratically to our pond's edge a few minutes into legal shooting time on opening day. "Yea it is! Shoot!" Anthony barked. Sure enough, after setting up based on hope, we had our first blue winged visitor and the first shots of the 2014 waterfowl seasons. A shot from each of us rang out simultaneously as the bird splashed down among the dekes. Success! At least this hunt won't be a scratch. Though it was just one teal we were elated to shrug off the long offseason, but the hunt was just getting started.

Soon a pair worked us nicely, proving the spinning wings of the two Mojo decoys mesmerizing, both were welcomed to the strap. Then another few here and there and before you know it we were really slinging some steel, during a hunt I'd figure to not even fire a shot. At one point while on a retrieve of a downed bird, I was ambushed by a flight of at least 20-25 from my blindside. That's what you get for bringing only half the usual supply of shells and also intentionally leaving the fancy camera behind. After all, what could we possibly photograph this morning given the scouting report?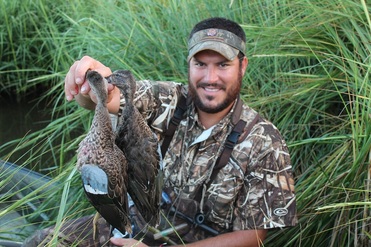 Shotgun blasts echoed across the marsh as others enjoyed the blue rockets winging across their spread. It wasn't lights out but it was opening day of teal season and people were putting teal on the strap, others who had similarly shunned the grim scouting report for the love of the hunt, just hoping the birds would show up overnight. And they did. Not in droves but enough to make us restock our shells and plan the next morning's hunt long before this one was over.

Since the opener, we've been far from lighting the world on fire and sinking the boat with limits of teal, but we're managing a few each hunt if you make the shots on the opportunities presented. No limits have been taken yet but we're getting to shoot the gun each hunt on a few decoying birds and that's what keeps me going. Reports from Venice to Manchac have been pretty spotty overall with even some perennial hotspots like Delacroix and Scarsdale giving up fewer birds than normal.

So far the keys have been focusing our efforts on shallow ponds with plenty of feed. Finding feed hasn't been the difficult part but with tides typically a bit above normal this month, finding the shallower ponds has been key since teal really rely on the shallows to feed.

Each morning I'm going with anywhere from 16 to 24 floating decoys, really only going with more to add visibility when needed. The spread is mostly teal decoys but really any species will do. I've heard many reports of pintail, spoonbills and even wigeon seen this early season so don't fret on the species you put out. Heck, we had a greenhead mallard land in the decoys last Sunday with a pair of mottled ducks.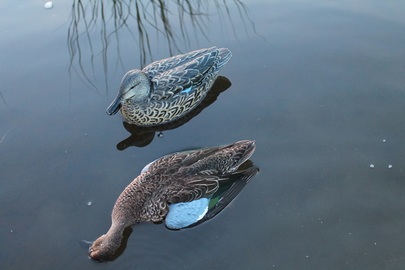 I couple those decoys with two spinning wing rigs on separate poles. The flash of the spinners is usually a slam dunk for getting teal to visit but I'll caution that you should watch for any signs of them pushing off the spinners and be prepared to pull them. Just like the ducks of the regular season, the teal are known to wise up to the spinners so take that day to day. And always remember that pretty much every single other blind out in the marsh is running spinners as well.

The flights have usually been over with by 7:30-8:00 with a few birds moving later in the 8:30 timeframe but overall it's shut down by then leaving time to pack up and head to work if needed. We've got the rest of this week to go through Sunday the 28th so hopefully we'll get a few more birds into the area before it closes.

Good luck and be safe out there, and please respect your fellow hunters' space by not setting up on top of someone already in place on your arrival.