Whether the 2015 waterfowl season was boom or bust for you, any true duck hunter worth the mud on their waders is perpetually looking forward to the next season. Now that we've breached the 90-day mark in our countdown to the 2016 teal season, the itch is coming along and beginning to spread. Here are a few items going on this offseason:
Shooting Practice
Even the most seasoned shotgunner has tough days in the blind where we've sworn someone replaced our steel shot for salt shot, when the birds just aren't falling for you. Seemingly very minor factors can play a huge role in altering your shooting, and often the decoying flocks are airliner high before you figure out what went wrong. Baton Rouge-area shooting instructor Kane Altazin has seen plenty of the mistakes commonly made by the average hunter and offered a few tips on minimizing those "off" days.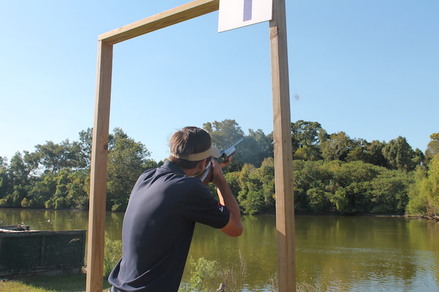 According to Altazin, improper gun mount is typically the most common issue. Hunters fail to get their gun properly shouldered in the heat of the moment and thus end up pointing the gun where their eyes aren't looking. Kane insists that getting your cheek down to the stock so your eyes can align with the barrel is critical. Another factor I commonly see as an issue in the blind is foot placement. We go to stand up when the shot is called and find that there's gear cluttering the floor or there's a hole in the marsh, or other encumbrance that prevents a steady platform or a quick follow up shot. When practicing in the offseason, I clear my feet before the shot, no matter the target presentation from skeet to sporting clays. Make this part of your pre-shot routine so that it's built-in when that first flight of 2016 shows up.

2. Repairs

This is the ideal time of year to lend those decoys some much needed TLC. To me, the decoys are something I want to look as realistic as possible at all times so I take great care in keeping them in top shape. If I've woken up early, rode miles on end in a truck, ATV, and/or boat, I don't want some plastic imposters to get in the way of sealing the deal on that committed flock. Take the time to patch up those that were shot up last season with an epoxy, silicone, or even melted scrap plastic. Touch up paint where needed, and re-rig damaged or missing anchor rigging. I know I've got a few decoys with failed weighted keels that have lost their sand or other material that was previously inside to provide ballast. I plan to refill with pebbles or similar sand before re-capping and sealing with a silicone.


Tip: I'm told melting black plastic used as a solder material works great for patching shot up coots or other decoys with black sections.

3. Dog Training
It's easy for retrievers to lose their conditioning in the summer. For many families, the kids are home from school and the trusty retriever may even be getting some extra snacks they wouldn't normally be allowed to have. I've been working with my dog on some light retrieving in the morning and evenings when at home, and he's getting plenty of swimming in when alligator-free water is available. We keep the exertion pretty light with numerous breaks, just enough reps to keep the routine in place. As always, we keep plenty of water on hand as well. I'll look to ramp up this work as we get closer to the season and temperatures moderate.
4. Equipment Repair & Replacement
Go ahead and take inventory of all the necessities from paddles and
pushpoles
to hats, boots and gloves. There are typically offseason deals to be had if you hunt around online before the mad rush hits in the Fall. I'm always thoroughly reviewing the condition of my critical items, such as those mentioned above, to see if they're repairable or warrant replacement. It's always fun to get new gear but saving a few bucks here or there on smaller items makes room for that unexpected must-have when the season rolls around.
Hope you're getting after some fish this summer but always keeping an eye toward the Fall.
If you haven't heard, our 2016-2017 waterfowl season dates are as follows, as provided by the Louisiana Department of Wildlife and Fisheries:
DUCKS AND COOTS: (60 days)
Coastal Zone: Nov. 12 – Dec. 4; Dec. 17 – Jan. 22
West Zone: Nov. 12 – Dec. 4; Dec. 17 – Jan. 22
East Zone: Nov. 19 – Dec. 4; Dec. 17 – Jan. 29 (Including Catahoula Lake)
Youth Waterfowl Weekend: Nov. 5-6 in the Coastal Zone, Nov. 5 and Jan. 28 in the West Zone, Nov. 12 and Feb. 4 in East Zone.
Daily Bag Limits: The daily bag limit on ducks is 6 and may include no more than 4 mallards (no more than 2 of which may be females), 2 canvasback, 1 mottled duck, 1 black duck, 3 wood ducks, 3 scaup, 2 redheads, and 2 pintails.
Daily bag limit on coots is 15.
Mergansers - The daily bag limit for mergansers is 5, only 2 of which may be hooded mergansers. Merganser limits are in addition to the daily bag limit for ducks.
Possession Limit - The possession limit on ducks, coots and mergansers is three
times the daily bag limit.
GEESE: LIGHT GEESE (SNOW, BLUE and ROSS') and WHITE-FRONTED
Coastal Zone: (88 days) Nov. 5 – Dec. 4; Dec. 17 – Feb. 12
West Zone: (88 days) Nov. 5 – Dec. 4; Dec. 17 – Feb. 12
East Zone: (88 days) Nov. 5 – Dec. 4; Dec. 17 – Feb. 12
Daily bag limit on light geese (snow, blue and Ross'): 20
Possession limit on light geese (snow, blue and Ross'): None
Daily Limit on white-fronted geese: 2
Possession Limit on white-fronted geese: 6
CANADA GEESE:
Coastal Zone: (76 days) Nov. 5 – Dec. 4; Dec. 17 – Jan. 31
West Zone: (76 days) Nov. 5 – Dec. 4; Dec. 17 – Jan. 31
East Zone: (76 days) Nov. 5 – Dec. 4; Dec. 17 – Jan. 31
Daily Limit on Canada geese: 1 per day
Possession limit on Canada geese: 3
The Canada goose season will be closed in the area described as follows: Beginning at the Texas State Line, proceeding east along Hwy. 82 to the Calcasieu Ship Channel, then north along the Calcasieu Ship Channel to its junction with the Intracoastal Canal, then east along the Intracoastal Canal to its juncture with LA Hwy. 82, then south along LA Hwy. 82 to its juncture with Parish Road 3147, then south and east along Parish Road 3147 to Freshwater Bayou Canal, then south to the Gulf of Mexico, then west along the shoreline of the Gulf of Mexico to the Texas State Line, then north to the point of beginning at LA Hwy. 82. Open waters of Lake Arthur and the Mermentau River, from the Hwy 14 bridge southward, will also be closed to Canada goose hunting.
CONSERVATION ORDER FOR LIGHT GEESE (SNOW, BLUE AND ROSS'S):
Coastal Zone: Dec. 5 – Dec. 16; Feb. 13 – March 12
West Zone: Dec. 5 – 16; Feb. 13 - March 12
East Zone: Dec. 5 – 16; Feb. 13 – March 12
Only snow, blue and Ross's geese may be taken under the terms of the Conservation Order, which allows the use of electronic calls and unplugged shotguns and eliminates the daily bag and possession limits. During the Conservation Order, shooting hours begins one-half hour before sunrise and extends until one-half hour after sunset.