The time has come for eager anglers to finally pole around the pumpkin patch in sight for those good-lookin' Southern Louisiana redfish. It's that time of year where the sun is blazing and the water is clear as gin. I'm talking about summer! If you fish Lake Pontchartrain frequently like myself, by now you know that the annual yellow mouth spring run is over. Spawning specs are searching for cooler waters and higher salinity levels both which the lake does not have to offer. So as a Northshore angler, it's important to learn the marshland just as much as those popular mile long reefs we love to fish so much.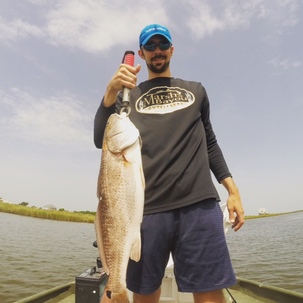 Sight fishing has made a name for itself the past few years and you might want to take note. It's a style of fishing that takes work and practice but when you actually see your lure being set into a tailing red, the only thing that will be hooked is you! Sight fishing can be tricky but here are a few tips that will get you started in the right direction. When sight fishing, the first step is to get yourself elevated to see the redfish with the sun at your back. Platforms are nice to have but you can stand on an ice chest, ladder or homemade stand as long as its stable and you're still in reach of the trolling motor.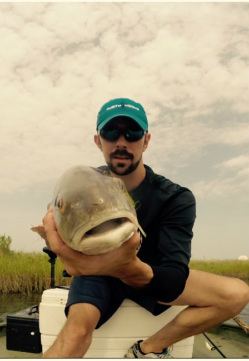 My second tip is gear. The areas I fish, and have great success from, are usually ponds with high vegetation. So break out the light jig heads, top water frogs or my personal favorite weedless hooks. If you want to spot those pumpkins before they spot you then polarized sunglasses are also a must. Without polarized glasses it can be extremely hard to spot fish unless they are tailing. The last and most important advice to get your sight life on is scouting. When sight fishing I look for medium vegetation ponds deep in the marsh with clear clean water. Too much vegetation can be a hassle to deal with and redfish don't care for it also. Before I venture through the marsh I map out spots on Google Earth deep in the marsh off of canals and waterways that are dark blue. When you see a pond with that dark blue tint that means you are seeing the bottom of the pond and an excellent area to try. Fishing the Northshore area you have multiple options for sight fishing. Most common are the Chef Menteur, ICW, Carr Drive, Rigolets, and even ponds off of the East Pearl are great places to wet your line. The key is just to scout each area and move around. Throughout the summer I will be highlighting ways to become a better sight fisher as well as targeting this style of fishing specifically on the Northshore. The next time you decide to take on the marsh, take these tips and set your hook into the sight life.