Before I get started I guess introductions are in order. Hi, I'm John. I grew up fishing bass and sac­a­lait on the west bank of St. James parish. My dad introduced me to the sport of fly fishing about 20 years ago. He gave me an old fly rod and old fly reel and taught the basic fly cast. Since then I've been able to fish trout in 5 states as well as catching bream on popping bugs here. Over the past year and a half fly fishing has become something of an obsession for me. I've been hitting the local ponds where I have become quite a nuisance to the bluegill population. I've started taking my fly rods with me every time I hit the water in either my kayak or the boat. Now I will say this, I am not an expert. I don't know everything about fly fishing, mostly on the saltwater side but I'm learning. I'm also trying to figure out how to catch bass on the fly. It's possible and I catch some while fishing small nymphs and streamers for bluegill and sac­a­lait.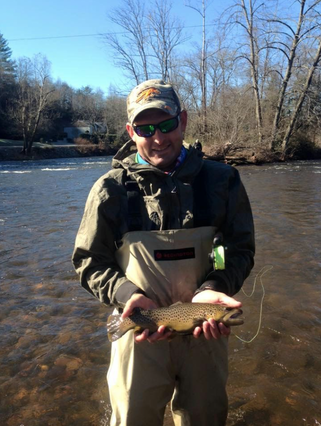 I'm also not endorsed by or getting paid by any particular brand or company. Any brands that I mention from here on are just the brands that I use. There aren't very many stores in our area to get flies and gear from. Orvis is one of the stores that I spend a lot of money at buying hooks and materials for tying flies. They are also where I've learned most of what I know, so I will probably mention them alot. I'll add a list of fly shops at the end so you know where you can go to get what you need. With all this being said, I am just an average fisherman who wants to share what I know and hopefully get more people into the sport of fly fishing. Let's get onto the meat of this now.


As I've been thinking of what to write about first in this I was thinking of starting with covering the basics of fly fishing, but after fishing some of the local ponds for the rainbow trout that were stocked recently I've heard some people say some things that made me wonder where they heard these thing. I have since decided to clear up some of the misconceptions with this first blog.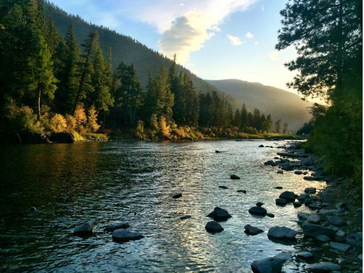 1. "There's nowhere to do that kind of fishing. "
I have heard this said several times by people going into the Orvis for the first time. Most people think that in order to fly fish you
have to be in a stream in the mountains of Montana or Wyoming. Movies such as "A River Runs Through It" and "The River
Why" perpetuate that thought. However, wherever you can fish with "normal" gear, you can fly fish. With the exception of a guided trip in the Smokey Mountains every year, all of my fly fishing is done right here in south Louisiana. Whether it's in my kayak drifting down Bayou Cane, Bayou Lacombe, or the Amite river; in the ponds in my neighborhood; or in the marshes of the Rigolets or southern Lafourche Parish. With south Louisiana being a sportsman's paradise, it's also a fly fisherman's paradise.

2. "Fly fishing is expensive!"
I've heard this said by many people over the years. Yes, fly fishing can be expensive but it doesn't have to be. Just like spinning and baitcasting gear, fly fishing gear has it's tiers of pricing. Fly rod and reel outfits start at $29.99 and can go up to to a couple thousand dollars. Personally I wouldn't recommend the $30 combo for reasons I'll explain in a later post. If that's all you can afford to toss popping bugs for bream go for it, otherwise I would say save your pennies so you can afford some of the decent $100 combos offered by Bass Pro or Cabellas.

3. "There's no way I can tie that tiny fly on that tiny line."
Fly fishing down here doesn't use those tiny midges with 1­2 lb tippets(more on tippets in a later post). While I do own a couple tiny flies, most of what I fish are at least as long as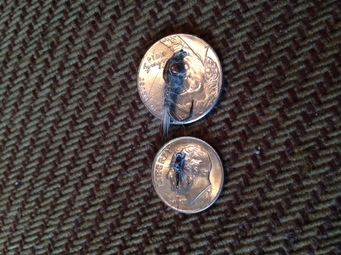 nickel is wide. As of the writing of this I'm waiting on a couple flies that are 5 inches long and are articulated to catch bass. Most of the aquatic insects, bait fish, and crustaceans here are bigger than the tiny nymphs and midges that coldwater trout feed on in mountain streams. Also, most of the fish we target down here are not as leader shy as the wild rainbow and brown trout of mountain streams so we don't need to use those small tippets. The smallest tippet I use is a 4x or about 5­6 lb test depending on the company that makes it.

4. "I don't know where to begin to learn to use a fly rod."
In the age of the internet, this is no excuse anymore. Orvis.com is a great place to start. You can order what's called the PractiCaster for $40 to start and then watch the videos in the Learning Center teaching you how to cast. Search youtube. There are tons of video there to teach you every aspect of fly fishing. From the basic fly cast, to switch and spey casting, to Tenkara fishing, youtube can be a great learning center for beginners. Join online fly fishing forums. Laflyfish.com is a great place for information. The site is run by Glenn "Catch" Cormier that writes the fly lines column in Louisiana Sportsman. There is an online forum dedicated to every aspect of fly fishing. Your's is a member there and they are really good at answering any question you have. I have learned tremendous amounts of the guys there.

If you're looking to get some flies and gear check out Old Towne Fly Shop in Slidell, The Green Trout in Baton Rouge, Orvis in Perkins Rowe in Baton Rouge, Bass Pro in Denham Sprins, or Cabellas in Gonzales. You can find Acardo popping bugs at Academy and Walmart, but for everything else you'll have to go to one of the fly shops I mentioned or any number of online retailers.

I hope I have helped clear up some of the mystery of fly fishing with this post. I will try to get a new one up at least every other month, if not every month to keep you informed as to what going on in fly fishing. If you have topics you wish to see send me a message on the forum here, my screen name is Vacherieboy.

Keep your flies out of the trees, and May the Fish be with you. John "Vacherieboy" Zeringue