With the regular season opener just around the corner, time for prep is running short. For young guns under the age of 16, the first crack at arriving birds is this Saturday November 4th! The rest of us will chomp on the bit passing time until the following Saturday rolls around to kick off the Coastal Zone on the 11th. As I alluded to on Saturday's NFR radio show, there's much to be excited about as a south Louisiana duck hunter, with the following factors currently aligning nicely in our favor:
​1.) Much of the Mississippi Flyway is abnormally dry, with some areas even seeing drought conditions. As of the October 26 update of the US Drought Monitor (
http://droughtmonitor.unl.edu/
), key areas in Missouri, Arkansas, western Mississippi and even north Louisiana are very dry. This helps from two angles; 1.) The birds have less water available to them and will continue moving southward seeking available water, and 2.) Those few areas holding water, be it naturally, or pumped, are thus are more likely to be pressured by hunters, thus pushing birds elsewhere……southward.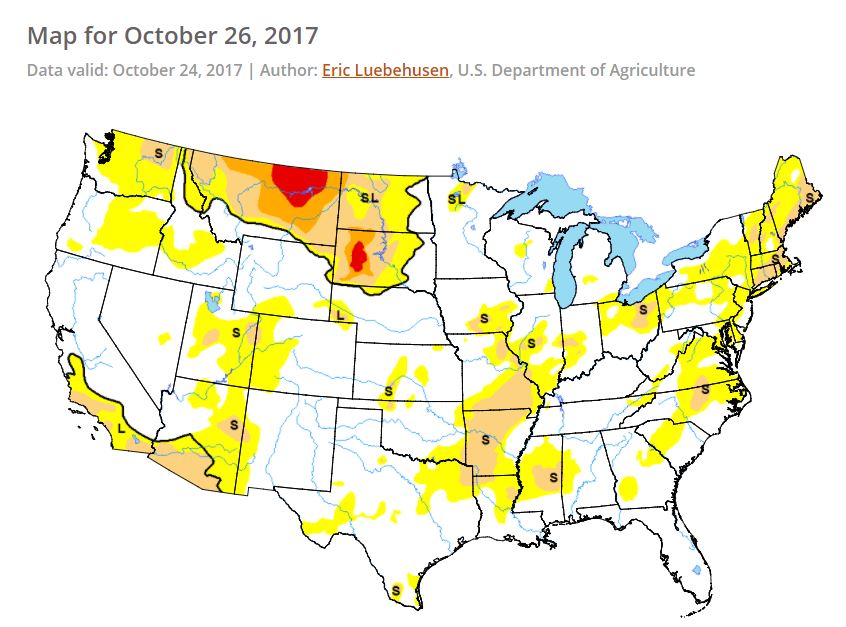 2.) October has been migration-friendly, with significant fronts blowing through and getting birds on the move, especially early migrators common to south Louisiana. The final full week of October had three frontal passages alone, keeping winds northerly and birds on the move. Certainly one of the more favorable preseason stretches of weather I've seen in recent memory.

3.) Barring a late sucker punch, we've again made it through another hurricane season without a significant storm event. October's Hurricane Nate looked to break that streak but assessments of marshes along our eastern coastal areas show that impacts were minimal. Even delicate submerged aquatic vegetation (SAV) key to holding wintering ducks looks to have made out largely unscathed. Impacts down river below Venice were likely the worst hit areas but by no means was it the catastrophic event many feared. Knock wood!

A tour through the marshes of Hopedale and Delacroix over the weekend showed that a number of ducks had already arrived following the parade of fronts. We noticed ducks holding in areas that in the past two seasons were largely devoid of birds for at least the first couple weeks of the season. If this is any indicator, it