Bass fishing makes summertime transition on Northshore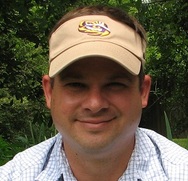 Keith Lusher Jr
With the summertime heat bearing down, Northshore bass fishermen are finding it more and more difficult to put good numbers of fish into the boat. Rising water temperatures are changing the way bass feed and react during different times of the day. A late spawn this year had bass full of eggs as late as early June but now our largemouth friends have settled into their normal summertime pattern. I recently did some fishing with local bass fisherman Ronald Pierre of Denham Springs and asked him how he deals with the summer time heat. Mr. Pierre is no stranger to areas such as Bayou Bonfouca, Bayou Lacombe, and the Tchefuncte River. "During the month of July bass are going to be heading for deeper water because of the rising water temperatures. Don't be afraid to fish the main channels in the rivers and bayous. These channels have deeper, more oxygenated water than the shallower areas we are used to fishing. Another plus with fishing the main rivers is the abundance of shad." Pierre said. Bass fishing can be tough this month but if you get an early start to beat the heat you can take advantage of an aggressive top-water bite that could have you heading to the launch with an early limit! Below are some hot-spots that Northshore bass anglers are capitalizing on in this month.



---


Bayou Bonfouca


| | |
| --- | --- |
| | Shad have finished spawning and have begun their migration from the backs of creeks to the main bayou. Bass will set up during low light conditions to feed heavily on shad before moving out to deeper water. Look for schooling bait fish being ambushed by hungry bass at the mouths of the two Coin Du Lestin entrances and the mouth of Bayou Malame'. Troll in slowly, then anchor 20 yards off the action and cast into it. Chug-bugs and Rat-L-Traps work best. Visible seagulls, cranes, herons, and grebes are also good indications that baitfish is present and if you find baitfish in June, you'll find bass. |
Tchefuncte River


| | |
| --- | --- |
| Summer time fishing in the Tchefuncte River can be quite testing on your nerves at times. However, if remain persistent, you will be rewarded. The heat of the summer pushes bass out to the main river channel. There you will find all kinds of structure to hold them. The big "T" has drop offs, channel swings, and points, all of which are littered with stumps and logs. Use deep diving cranks or football head jigs to pluck the bass from these haunts. If deep water is not your thing, try the shaded cypress tree-lined banks with spinner baits, or cast near matted grass with craw-worms. Finding bait is key to fishing the Tchefuncte this time of year. If you can find shad scattering on the surface you're on your way to finding that school of bass that make your day a success. | Deep water structure can be found all all along the no wake zone in the Tchefuncte River |
More Articles!


Got your backup plan?


Finally some stability on the Northshore!

This is an archived article! For the most recent article please pickup a copy of the Slidell Independent or Tammany West publications today!