Can't Find fish? The marsh bass are there!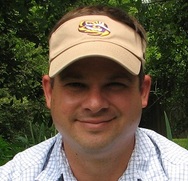 Keith Lusher Jr
It's about that time! The long hot days of summer are here and anglers are struggling on the warm waters of the Northshore. What was a tough speckled trout month last month has turned even tougher. The salinity levels in Lake Pontchartrain show no improvement and the forecast doesn't look to improve in the near future. Bass fisherman aren't faring any better these days as reports of anglers struggling dominate the conversation at local bait shops and tackle stores. It's around this time that I like to specifically target the marshes near the lake for marsh bass. So what is a marsh bass? Genetically speaking, marsh bass are the same as any other largemouth bass you might catch up-river or in any other freshwater tributary, but because of the surrounding environment, this type of bass has taken on some very distinct characteristics. One glaringly obvious difference is the girth of a marsh bass. Marsh bass are smaller and stockier than bass that live in pure freshwater. It has been proven that largemouth bass that live in pure freshwater grow quicker. This would explain why marsh bass are typically shorter. The salinity of the water in which these fish live is approximately 2 parts per thousand. So why are they thicker than the average freshwater bass? In a recent study, Scientists with Louisiana Fisheries and Sea Grant examined the stomach contents of the bass that lived in freshwater and they showed a high percentage of invertebrates compared to the typical diet of marsh bass. The most common fish eaten were cacohoes, shiners, and pogies. Fish are by far a superior food item as opposed to invertebrates for producing growth in predator fish such as largemouth bass. This explains why these bass are referred to by local fisherman as "football shaped." These fish have some serious meat on them and are perfect for those who are looking to put some meat in the freezer. Below are some hot-spots and tips that you can use to have a successful bass fishing trip this month.




---

Salt Bayou


| | |
| --- | --- |
| | Bass fishing is hot right now on Salt Bayou! Look for small ditches or run-outs coming out of the marsh. On a falling tide the water flowing out these ditches contain small shrimp and shad that are ambushed by bass waiting underneath the grass line. Use weed-less baits resembling shad and cast over the grass line that is located along the bank. The bass will usually strike after the lure has cleared the vegetation. Another sign to look for is bait fish. Shad scattering along the surface is a good sign that there are bass in the area. When these bass start chasing shad they are already primed and in a frenzy. Make quick cast where you see explosions on the water. Remember to make the most out of what little time you have to put some fish in the boat because usually around 8:00 am the bite slows down. Getting out on the water a half hour earlier can mean an extra five or six bass in your boat. |
Tchefuncte River


| | |
| --- | --- |
| Located less than a mile from Lake Pontchartrain, the Rice Fields Canal is a place you really need to try this month. Surface action in this canal is quite a sight to witness. The main canal offers over 10 different run-outs that act like marsh bass magnets! Anchor on the opposite side of these ditches and work the mouth with top water lures early in the morning. Artificial shad lures such as Tsunami and Matrix Shad work best. Keep an eye out for shrimp popping on the surface. I find switching over to an artificial shrimp under rigged under a cork works best. Pop the cork often and try not to let the shrimp sit still too long. Bass like live bait and every time you pop the cork that shrimp comes to life! | |
More Articles!


Got your backup plan?


Finally some stability on the Northshore!

This is an archived article! For the most recent article please pickup a copy of the Slidell Independent or Tammany West publications today!